We're Getting Mutants in the MCU - The Loop
Play Sound
"

Just wait! We're gonna cram nine years of bonding into one spectacular event.

"
—Marty
"Drop Beat Dad" is the 7th episode of the third season of Steven Universe and the 85th episode overall.
Official Synopsis
Steven helps Sour Cream put on a show, even though Sour Cream's stepdad doesn't approve of him being a DJ.[3]
Plot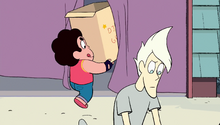 At Onion's House, Steven helps Sour Cream pack up his DJ equipment for a show he has planned for the night. With his enhanced strength, Steven has an easier time lifting Sour Cream's things than Sour Cream himself. Yellowtail arrives and speaks disapprovingly. While we cannot understand what exactly he is saying, Sour Cream understands him and defends himself from his stepdad, arguing that DJ-ing is a viable career, and tells him that he'd rather be a DJ than a fisherman before walking away. Steven, with Sour Cream's equipment, follows him.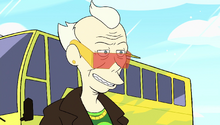 Steven and Sour Cream pass by Greg's car wash. While Sour Cream goes to the car wash's restroom, Greg chats with Steven, remarking that business has been slow. Just as Steven reassures Greg that business will pick up soon, a bright green bus stops at the car wash. Marty steps out and, looking at Greg and his business remarks to 'Starchild' that the music business hasn't been so good for him. He tells Greg that he can "do one" better than paying for a car wash, as he pulls out an envelope and says they have some unfinished business. Sour Cream, returning from the restroom, is surprised to see his dad. He implies they last saw each other nine years ago, to which Marty makes a long explanation about his absence due to the rigors of the music industry.
Sour Cream tells Marty about his DJ rave that he's setting up for. Marty decides to stay in Beach City to make up for the lost time and promote his son's event, showing him his business card which advertises Marty as a 'hype man' and 'promotor'. He is unimpressed at Sour Cream's set-up in the warehouse where he usually performs and decides to move the rave to the beach. Steven voices his concerns, reminding Marty that when Greg performed on the beach, he did not advertise well, causing nobody (besides Rose Quartz) to attend the concert. Marty admits to making mistakes and being a jerk to Greg in the past but tells Steven and Sour Cream that he has learned a lot about the industry. He then makes a phone call. The scene then changes to a large banner on the water tower that advertises "DJ SC", which impresses Sour Cream. Marty also lends his own equipment to Sour Cream and makes Steven an official roadie. While setting up the equipment, Steven sees Yellowtail on his boat, watching Sour Cream and Marty through binoculars.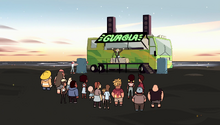 On the evening of the rave, a large crowd awaits Sour Cream. Marty insists on building up hype before Sour Cream performs. Marty promotes a type of soda called Guacola by throwing cans into the audience. Things worsen as the audience drinks the Guacacola, only to find the taste terrible. The only person who seems to enjoy the soda is Onion. While the audience is scared away from the rave, Steven tells Greg and Yellowtail that this is Marty's fault. Yellowtail, furious, storms off on his boat.
Meanwhile, Sour Cream confronts Marty, who tells him that the show belongs to him, not Sour Cream, and it becomes clear that this event was simply a scheme for Marty to promote Guacola. Sour Cream yells at Marty, at first in the language used by Yellowtail and Onion, then explains what he said in English: Sour Cream does not need (nor has he ever needed) Marty or Guacola's help for his show. Marty leaves Sour Cream and happens upon Greg and tells Greg that he is only here due to his legal obligation to give Greg an envelope. After handing the envelope to Greg, Marty leaves Beach City.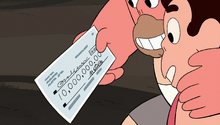 Sour Cream laments the apparent failure of his rave. He sees Yellowtail rushing towards him on a speedboat, which causes him to become more upset, assuming that Yellowtail was just waiting for something to go wrong so he could force Sour Cream to fish. Surprisingly, Yellowtail gives Sour Cream his DJ gear and tells him to play. Sour Cream thanks his stepdad, and Steven is happy to help set up Sour Cream's rave. The rave attracts a decent crowd, including Sour Cream's family, friends, and a few others. Greg remarks that the music business can be tricky. As he opens his envelope, he says that Sour Cream doing what makes him happy is what matters. He waves away the importance of money but stops when he sees the ten million dollar check within the envelope.
Features
Characters
Objects
Sour Cream's DJ Gear
Greg's Check
Speedboat
Marty's Tour Bus
Locations
Music
Instrumental Songs
Trivia
None of the other Crystal Gems appear in this episode.
This episode reveals that Sour Cream can speak Yellowtail and Onion's language.

It is implied that Sour Cream could speak the language in "Shirt Club", in which he is seen talking to his phone in the same language.

This episode reveals that Marty left Vidalia and Sour Cream at least 9 years before the events of this episode.
This episode's name is first revealed in the episode listing on the Cartoon Network website.[4]
Steven demonstrates the super-strength he inherited from his mother when he can lift and carry heavy equipment that Sour Cream and others had difficulty carrying easily.

His superhuman strength was already hinted in "Arcade Mania", where he tore apart an arcade game panel and used it to destroy a screen, and in "Joy Ride", where he lifted and moved Jenny without any problem.

Ian Jones-Quartey makes a cameo in this episode as a member of the crowd.
Guacola appears to be a play on the Spanish word guácala which means "to indicate displeasure, disgust, or revulsion.[5]"

It is also a play on Guacamole, a Mexican side dish that has avocado as its main ingredient, much like Guacola, and Cola, a type of soda.

Marty's business card describes him as a 'Promotor' (sic).  This is likely an animation error, with the intent that his job title is the tautological 'Hype Man & Promoter'.  Alternatively, it may be an in-joke, implying he is not particularly accomplished (to the point he misspells his own job title), or a reference to the enormous coach he arrives in (literally Pro-Motor).
Cultural References
The episode's title is most likely a mashup of the phrases "deadbeat dad" and "drop the beat".
When shown Sour Cream's DJ gear, Marty says the line "What is this, a concert for ants?!", which is a reference to the 2001 movie Zoolander, in which the main character is shown a scale model of his school and says: "What is this, a school for ants?!"
When everyone becomes nauseated from the Guacola, Buck Dewey at one point says "That's nasty..." in a manner similar to how Cleveland Brown from Family Guy says it.
Continuity
Marty is seen again since his last appearance in Greg's flashback in "Story for Steven".
Steven is once again seen in his tank top from "Beach Party".
Greg's concert within "Story for Steven" is mentioned by Steven.
Errors
Marty's eyes change color between black and blue throughout the episode.
Greg's outlines suddenly change while he is talking to Steven at the carwash.
When Sour Cream starts DJ-ing and the crowd is shown, Vidalia's hair is platinum blond like Sour Cream's instead of light blond like Onion's.
Transcript
View the episode's transcript here.
Gallery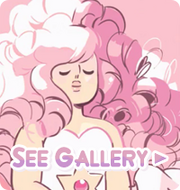 Videos
References