The
Earth Beetle
 is a former 
Corrupted Gem
that makes her first appearance in "
Giant Woman
".
Garnet
had found her while
Steven
,
Pearl
and
Amethyst
searched for the
Heaven Beetle
at the
Sky Spire
.
Appearance
Corrupted
The Earth Beetle's figure somewhat looks like that of a Japanese Rhinoceros Beetle. The Earth Beetle's femurs are black, and the lower half of her legs are black. Her body is mostly a lightish-gray, but has a pale green gemstone on the top center of her body which is surrounded by a clover shape that is dark gray. She also has a black horn, black eyes, and black antlers.
Uncorrupted
History
Thousands of Years Ago
The Earth Beetle was on Earth during the Rebellion, and became corrupted when being exposed to the Diamonds' Corrupting Light at the war's end. 
Due to Ruby's ability to resist extremely hot temperatures, Garnet explored the lava lake to find the Earth Beetle while the other Crystal Gems searched for the Heaven Beetle. She, along the Heaven Beetle, is placed in a bubbled terrarium. 
The Heaven and Earth Beetle are released from the terrarium to soak in the healing waters of Rose's Fountain, powered by Steven and the Diamonds. The two are uncorrupted, and the Earth Beetle kisses the Heaven Beetle on the cheek before the two are raised in the air by the emerging Snow Monster.
Relationships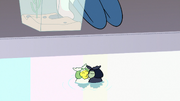 As shown in "Change Your Mind", the Heaven and Earth Beetle appeared to have a very close, presumably romantic relationship before being corrupted. 
Episode Appearances
Trivia
The Earth Beetle, along with the Heaven Beetle, are collectively known as "The Geode Beetles of Heaven and Earth".

The Earth Beetle appears in the desktop game "Goat Guardian" as a power up that lets Steven jump twice, instead of once.
It was confirmed that the Earth Beetle, along with the Heaven Beetle, are corrupted Gems.[1]
The Heaven Beetle appears to have a gemstone identical to the Earth Beetle's. This could mean that they are the same Gem type.
The design of the Heaven and Earth beetles resembles the real-life practice of live insect jewelry.
She and the Heaven Beetle are the second and third corrupted Gems that are shown bubbled without being poofed first. The first is the Desert Glass.
As revealed in the Earth Beetle's section on the "Design a Gem" page in Steven Universe: Art & Origins, an old idea was that Steven's powers alone actually could uncorrupt Gems, which was at some point scrapped and replaced with Steven coming together with the Diamonds to heal them.
| | |
| --- | --- |
| Image | Description |
| | The Earth Beetle's gemstone is located on her back. It has the same appearance as the gemstone of the Heaven Beetle. |
Gallery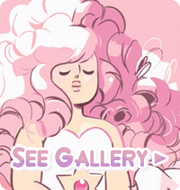 References