Doctor Strange in The Multiverse o Madness - The Loop
Play Sound
"

Did you really think I wasn't going to be able to track my own ship? The Sun Incinerator's specialized nova thrusters give off an energy signature I could recognize from the other side of the galaxy! Now surrender to me or be destroyed!

"
—"Lars of the Stars"
Click
here
to see more of Emerald's quotes.
Emerald is a Homeworld Gem who made her debut in "Lars of the Stars". She owned the Sun Incinerator, which was taken from her by Lars Barriga and the Off Colors. With her ship still belonging to the Off Colors and her role being removed, her whereabouts are unknown.
Appearance
Emerald has only been seen on a screen that has a green tint making her actual colors currently unknown, however it is very likely green. She has a light green complexion, large, spiky bright green hair, and prominently pointy fangs. Her gemstone is where her right eye would be. Emerald has large rectangular shoulder pads and pale furry ruff at the base of her neck. Beneath the ruff are two yellow diamond symbols one over the other, the bottom one being larger and being attached to two turquoise straps, with the rest of her jumpsuit being dark green. While her legs were not shown on-screen, her two large high-heeled boots were shown in an official lineart model sheet. She has dark green sleeves and light green, square-shaped cuffs, and a leg 'armor' the same color as her pads and cuffs. Adorning her forehead, there is a yellow zigzag tiara-esque bar that covers her hairline and brows, making it resemble a unibrow.
Personality
Emerald is shown to become very agitated when the Off Colors had crashed her personal ship, impersonated imperial officers, and stole her prized ship, the Sun Incinerator. Her agitation turned into sheer anger when the Off Colors made fun of her, prompting her to openly yell at them through the Sun Incinerator's communicator. Emerald valued her Sun Incinerator too highly to destroy it even when doing so would have dealt with the Off Colors in a single stroke.
History
Emerald's fastest ship, the Sun Incinerator, is stolen by Lars and the Off Colors while being heavily guarded at the docking bay of Klavius 7.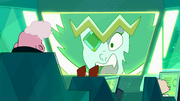 After the Off Colors steal her personal shuttle (crashing it on Upsilon 9), impersonate imperial officers during a cosmic jubilee, and steal the Sun Incinerator, Emerald communicates with and angrily threatens the Off Colors (who have boarded the Incinerator and soon take off at hyperspeed).
Emerald quickly catches up to the Sun Incinerator on her warship, the Destiny Destroyer. Lars rejects her demand to surrender before lowering the shields on the Sun Incinerator. Not wanting to destroy her own ship, Emerald avoids firing on the Sun Incinerator directly. Realizing Lars knows she won't destroy her prized ship, she decides to prevent his escape by disabling the Sun Incinerator's nova thrusters. In response, Lars deploys Stevonnie in his Star Skipper to take out the Destiny Destroyer's main guns, ultimately forcing Emerald to retreat, and her current whereabouts are unknown.
Emerald is briefly mentioned by Lars. Following the space battle against Emerald, Stevonnie crash lands on the nearby jungle world.
Steven mentions Emerald when he emerges from Lars' hair with a sandwich for the Off Colors for beating Emerald and rescuing him and Connie in "Jungle Moon".
Abilities
Emerald possesses standard Gem abilities, bubbling, shapeshifting, fusion, regeneration, agelessness, and superhuman strength/durability.
Unique Abilities
Spaceship Piloting: Emerald has several spaceships; she also knows their functions and how to command and track them.
Episode Appearances
Trivia
According to Rebecca Sugar, Emerald is special because of her status on Homeworld as she is a fancy and very high-class Gem, which, aside from the Diamonds, is a rarely seen type of foe for the Crystal Gems.[1]

Her high status may be a reference to how emeralds in real life are very valuable.

Along with Carnelian, Spinel, Larimar, Rutile Twins and Snowflake Obsidian, Emerald is the sole individual of her Gem type seen in full detail.
Emerald is the first non-hybrid Gem to not be voiced by a woman. She is voiced by Jerick Hoffer, (better known by their drag persona Jinkx Monsoon), a non-binary drag performer.[2][3]
The choice of the gemstone "Emerald" may be a reference to Queen Emeraldas, a character from the universe of Space Pirate Captain Harlock and the series that heavily inspired her debut episode "Lars of the Stars".
Emerald's gemstone resembles an emerald cut, a type of step cut with truncated corners. Appropriately, they are commonly associated with emerald gemstones.
| Image | Description |
| --- | --- |
| | Emerald's gemstone is located where her right eye would otherwise be. It is dark-green, rectangular, and has facets around the edge. |
Gallery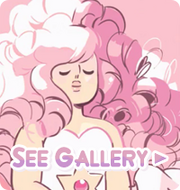 References