Doctor Strange in The Multiverse o Madness - The Loop
Play Sound
This article is about the location. You may be looking for the song.
Empire City is a metropolis located in the Empire State, next to the state of Jersey. It was first mentioned in "Story for Steven", and made its debut in "Same Old World".
History
"Story for Steven"
Marty tells Greg that they are going to Empire City next on Greg's tour.
"Same Old World"
Steven and Lapis fly above Empire City. Steven reveals the supposedly well known saying: "What happens in Empire City never sleeps." He also explains to her that if she lived here, she could be a single Gem taking on the big city, working at a coffee shop and coming home to a wacky roommate.
After Greg becomes rich, he and Steven decide where to go for a vacation. Greg tells Steven that they could go to Empire City, and they decide to go there along with Pearl. They stay at Le Hotel and leave the next morning.
Sadie Killer and the Suspects, with Greg as their manager, play a show at a venue owned by Sunshine Justice. During the show, they play their new song, "G-G-G-Ghost".
Trivia
It is the first major city featured in the show.
Empire City is the show equivalent of New York City, though it also incorporates elements from other cities such as Paris, Las Vegas, and Sydney.[1]

"Empire City" is a common nickname for New York City. The name has been used for many other fictional cities based on or referencing New York.[2]
The slogan "What happens in Empire City, never sleeps" is a combination of the respective popular slogans of New York City, "the city that never sleeps", and of Las Vegas, "what happens in Vegas, stays in Vegas".
Real-world landmarks also appear to exist in Empire City, including the Empire State Building and Times Square. There is also a notable building that resembles the Eiffel Tower – this could alternatively reference the tower at Paris Las Vegas.
The shape of the city on the peninsula and its adjoining harbor resemble that of the real-life Circular Quay, the only difference being the positioning city's skyline.
Real-world boroughs and neighborhoods appear to exist in Empire City, including Brooklyn and The Bowery, both mentioned in the episode "Mr. Greg".

Issue 1 of the Steven Universe ongoing comic series reveals that the city has a wildlife rehabilitation center. However, this series is not canon.
Gallery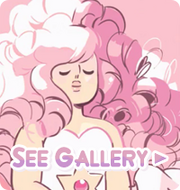 References