She-Hulk Trailer Dropped - The Loop
Play Sound
This article is about the episode. You may be looking for the song.
"

Call for help! There's one Crystal Gem left that hasn't been poofed, and that's Bismuth! Maybe I can reach her with my psychic sleeping mind powers!

"
—Steven
"Escapism"[2] is the 28th episode of the fifth season of Steven Universe, the 156th episode overall, and the fourth episode in the Diamond Days event.
Official Synopsis
Steven uses his psychic powers to find help.[3]
Plot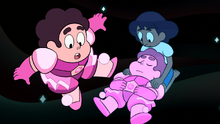 The episode starts off with Stevonnie trying to break out of the prison tower, but this fails; they then see a window and look out, but fall down and unfuse. Connie gives some snacks to Steven, but he says that they never should have come to Homeworld, as only bad things have come of them being there. Steven then realized what Connie said "call for help" that he might be able to reach Bismuth with his psychic powers, and he falls asleep and enters a psychic plane.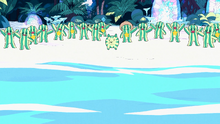 Upon finding Earth, he is transported into the body of one of the Watermelon Stevens on Mask Island. Steven goes into their village but leaves after seeing they are doing a ritual. He jumps off a cliff into the sea but is washed up on the island and collects sticks to make a boat. The Watermelon Stevens take him back to a village, but it appears to be a different tribe, as they worship a statue of Steven when he led them into fighting Malachite. The tribe that worships baby melon arrives and the two fight. Steven leaves and once again tries assembling a raft. The two sides stop fighting and help him build it so he can sail away. In the open ocean, Steven is attacked by a watermelon shark, losing a foot in the process, but he tames it and swims away by clinging to a piece of driftwood.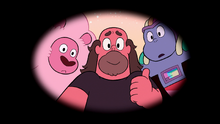 Eventually, Lion finds him floating in the ocean and takes him to Greg. Greg takes him to Bismuth, who is busy fixing the Beach House. Steven tries acting out what has happened on Homeworld, then attempts to draw a picture, but his friends only understand him when he writes a message asking for help. As Steven goes back to sleep to leave his watermelon body behind, Greg gives him a thumbs-up, indicating that he, Bismuth, and Lion have received the message. Steven wakes up in his real body, hoping for the best.
Features
Characters
Objects
Locations
Music
Songs
Instrumental Songs
Trivia
This is the first episode to air in 2019.
This episode shares its title with the song "Escapism".
As Steven tries to make his way back to Beach City as a Watermelon Steven, he literally loses an arm and a leg during the journey.

The idiom "cost an arm and leg" means "a high price to pay", which signifies Steven's journey as a costly and difficult one.
Cultural References
Continuity
Errors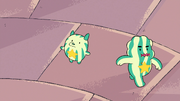 When the baby melon tribe all arrive to perform the ritual, almost all of its members are missing the yellow star.
When Steven walks away from the baby melon ritual, one of the paint blotches from his star has a black outline in one frame.
After Steven wakes up and finds himself as a Watermelon Steven, one of the paint blotches from his star is missing its outline.
When Steven looks down from the cliff, one of the paint blotches from his star is missing.
After Stevonnie unfuses, Connie's hair is no longer the ponytail it was in "Together Alone". Her hair bobbleClarify has also disappeared.
When Steven dives into the ocean, the paint blotches are missing.
After Steven is washed up on the island, his painted star is missing.

This happens again when Steven runs off to search for supplies to build a raft.

When the warrior melon tribe leader comforts the baby melon tribe leader, the latter's painted-on star is mirrored.
When the Watermelon Stevens all notice their respective tribe leaders, only one Watermelon Steven has a painted-on star.
After the Watermelon Stevens assemble the raft, one of the watermelons is missing its tribe symbol.
When Steven is about to sail away on the raft, all of the Watermelon Stevens are missing their tribe symbols.
While it seems the warrior melon tribe identifies its members with camouflage markings in opposition to the yellow star that the baby melon tribe uses, the three warrior melons that guard their city bear both symbols.

This could also indicate these guards were previously "attacked" by the rival tribe, who paints the star on their opponents while fighting as shown on the battle that took place in the episode.
Transcript
View the episode's transcript here.
Gallery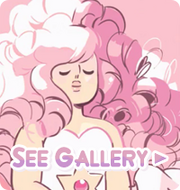 Video
References