Doctor Strange in The Multiverse o Madness - The Loop
Play Sound
Level 2 Canon
This page contains content that is considered "level 2 canon" and may be contradicted by the TV series.
Fable is a magical creature, presumably a Gem, who appears in the mobile game, The Phantom Fable. She fought Steven alongside the other Crystal Gems, and was the major antagonist within The Phantom Fable. After her fight with the Crystal Gems, she realized that she was wrong, now telling and hearing stories peacefully.
Appearance
Fable has an immaterial, transparent form, which makes her resemble a phantom. She is tall and slender and has a dark slate-blue color. Her head is a teardrop shape with no visible hair. Her eyes are white and narrow, and her lips are plump. She wears a long-sleeved mantle with purple patterns. The insides of the sleeves are a red-purple color.
Personality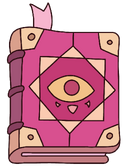 She is quite calm and resembles a ghost in her manner of speaking. She considered Crystal Gems and especially Connie to be her friends, until they wanted to leave the book, again leaving her alone among the dark stories. But, in the end, they still became friends, when she realized that if you put the Crystal Gems, like yourself, in a book, they will suffer.
History
She is the main antagonist and boss of the game. But before that, she is concluded in the book as not only the main trinity of gems, but also Steven and Connie, and followed them, reincarnated into Leo. In her first appearance, she took Greg with her, which was why he had to be saved. She wanted the gems to remain with her in the book, for which she specifically created these pages for them. But after the battle, she realized that it was wrong to condemn them to the same fate like hers, but Steven came up with a solution. He told her new interesting stories about the adventures of Crystal Gems, instead of those old and gloomy ones. Now she has new and interesting stories. On the side of red-purple color.
Abilities
As an intangible entity, she can levitate and teleport. She is much stronger when she has a book in her hands.
Unique abilities
Enhanced Powers: When a book is in her hands, she is much stronger and can call on assistants from the book's stories.
Protective Sphere: She can create a spherical sphere around herself.
Self Copying: She can create many copies of herself to attack and confuse her enemies.
Trivia
She has a particularly strong respect for Connie and admires her mental abilities.
She is also quite caring because she was worried when Steven and Connie came to a dangerous part of the book.
Of all the books depicted in the franchise, she is the only one that has displayed intelligence and materialized as a magical entity.
Beacons that appear to be statues of Fable are present in the game.
TBA