She-Hulk Trailer Dropped - The Loop
Play Sound
Flint is a Gem that debuted in "Homeworld Bound". She was released from a forced fusion, with the help of Yellow Diamond.
Appearance
Flint is stout and relatively tall, having a pale gray-blue complexion. She has long, messy, dark-blue hair and bushy eyebrows. She wears a beige vest fastened with silver clips and grey bell-bottom pants, tucked into a pair of black boots. She also has a black sash tied around her waist. Her gemstone has a hexagonal facet and is located on her chest. Compared to other Quartzes, she's a tad bit shorter. Flint's torso is much more compact, and she has less defined hips and a thicker, shorter waist. Her lips are similarly less prominent, a trait she shares with her friend Chert. It's quite possible that she's defective in some way, due to not having a "proper" Quartz structure.
History
Pre-Series
Sometime before the events of the series Flint was deemed defective for having a moral detachment to fighting and was shattered.[1] Her shards were then used in one of Yellow Diamond's early forced fusion experiments.
Chert watched Yellow Diamond reassemble Flint's gemstone, by placing the shards, piece by piece. When she reformed, her limbs were stretched out, due to her gemstone missing a few pieces. Luckily, Yellow used her powers to fix Flint's limbs and return them to their normal size. Chert then welcomes her back and happily hugs her friend.
While Steven is driving away from Beach City, she and Chert are seen posing, while Pink Pearl takes their picture.
Episode Appearances
Trivia
Flint and her friend, Chert, were supposed to be Off Colors, according to the writers Matt Burnett and Ben Levin, but were scrapped due to theming conflicts.
Flint is the third revived Gem shown in the series thus far. The first two were Jasper and Chert.
She's the third cracked Gem to undergo have her limbs extend while cracked, after Amethyst and later, the wrist Ruby.

She underwent the most, having all four extensions descend from their original spot.

She and Chert are the only Quartzes to not have defined lips.
Image
Description
Flint's gemstone is located on her chest, featuring a hexagonal facet. It is a tetra-decahedron, specifically a truncated hexagonal dipyramid. Its overall shape is circular.

It has a noticeable crack spreading from the bottom up over the center due to Yellow Diamond not being able to find all her pieces.
Galleries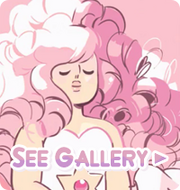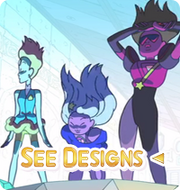 References