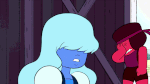 "I saw that this was a possibility..."
This article contains information about content officially released prior to its television premiere. Take caution when reading.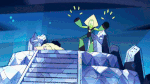 "You have to fix this!"
The Flower Monster is a corrupted Gem that first appeared in "Back to the Kindergarten".
Appearance
The Flower Monster is a large plant-like corrupted Gem who's body resembles a giant turnip with the top of her body tapering into a leafy stem with a five-petaled flower on top. She lacks a defined head or face, having only a cavernous, fanged maw at the front of her teardrop-shaped body. Her tongue resembles a humanoid arm in shape and function, which is used for pulling victims into her mouth. She walks on four root-like, three-toed legs.
History
The flower of the monster is discovered by Peridot in the Prime Kindergarten, mistaking it as an organic flower. This gives Steven and Amethyst the idea to plant flowers there, believing that it can support life.
The next day, Steven, Amethyst, and Peridot return to the Kindergarten to find the sunflowers they have planted dead. This causes Peridot to become upset. Steven tries to calm her down, although he fails. Peridot, in her rage, walks over to the flower and crushes it, immediately feeling bad afterwards. The ground then begins to shake, and the Flower Monster pops out of the ground. She grabs Peridot with her tongue, 'eating' her, and goes underground.
She pops up again behind Steven and Amethyst, prompting the latter to summon her whip and grab her. The monster dives underground, taking Amethyst with her. Steven runs after them, and discovers Amethyst fighting her. As she is about to eat both of them, Steven and Amethyst fuse into Smoky Quartz, launching the Flower Monster out of the ground.
Smoky Quartz wraps three yo-yos around the monster, and they land on her. Tightening the yo-yos, the Flower Monster poofs, freeing Peridot. The monster's gemstone is then bubbled by Smoky Quartz, and it is sent back to the temple.
Abilities
Enhanced Durability: The Flower Monster is able to take a direct slash from Amethyst's whip and a fall from the sky with little damage. It takes the power of Smoky Quartz to subdue her.
Burrowing: The Flower Monster is skilled at burrowing herself through tunnels underground. She shares this ability with the Slinker, another plant-like corrupted Gem.
Episode Appearances
Trivia
The flower on top of her head resembles the Silent Princess from The Legend of Zelda: Breath of the Wild, a white and blue flower found across Hyrule, particularly abundant near Kakariko Village and Korok Forest, and several grow near the Master Sword's pedestal in Korok Forest.
This is the first corrupted gems that have a plant on it body.
This is the first corrupted gems that appear in the Kindergarten, because The Cluster Prototype isn't a corrupted gems.
This is the first corrupted gem that is bubbled by Smoky Quartz.
| Image | Description |
| --- | --- |
| | The Flower Monster's gemstone is located somewhere within her body. It has rounded edges. |
Gallery