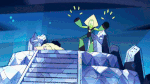 "You have to fix this!"
Fluorite is a fusion of six unknown Homeworld Gems first appearing in "Off Colors".
Appearance
Because of her six gems, Fluorite's appearance is not very humanoid (instead taking an appearance similar to that of a very large caterpillar). She has green, blue, purple, and pink body segments, three of which have legs coming out of them. She has two gemstones on her head, and four on her chest. She has six eyes, a big nose, and wavy, shoulder length, light blue hair.
Personality
Fluorite is a calm and wise Gem who is looked up to and respected by the other off colors. She often gives advice and speaks her mind, using her noticeably slow and deep voice. Fluorite also has a very open-minded attitude to fusion, as she has no problem with being a permanent fusion of six Gems and states that she would not mind adding even more if she meets "the right Gem".
History
Abilites
Gemology
v • e
Fusion Gems
---
Hybrid Fusions
Crystal Gem/Homeworld Gem Fusions

Community content is available under
CC-BY-SA
unless otherwise noted.