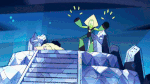 "You have to fix this!"
Fluorite is an unaligned fusion of six unknown Gems. She currently resides in an abandoned Kindergarten facility on the Gem Homeworld amongst other defective or non-normal Gems known as the "Off-Colors". She made her debut in "Off Colors".
Appearance
Because of her six gems, Fluorite's appearance is not very humanoid (instead of taking an appearance similar to that of a very large caterpillar). She has green, blue, purple, and pink body segments, three of which have legs coming out of them. She has two gemstones on her head, three on her first body segment, and one on her second body segment. She has six eyes, a big nose, and wavy, shoulder length, light blue hair, and wears a dark pink, dark purple, and dark blue sweater that covers her top two body segments.
Personality
Fluorite is a calm and wise Gem who is looked up to and respected by the other off colors. She often gives advice and speaks her mind, using her noticeably slow and deep voice. Fluorite also has a very open-minded attitude to fusion, as she has no problem with being a permanent fusion of six Gems and states that she would not mind adding even more if she meets "the right Gem".
History
Abilities
Components
Her six component Gems' are unknown.
Trivia
Fluorite is the most complex fusion to appear, consisting of six component Gems.
Rebecca Sugar has revealed that Fluorite's slow speech is due to having so many component Gems, which all have their own thoughts and opinions. They each need time to decide on what they'll say together as Fluorite, thus resulting in the slow speech.
It is uncertain what the facet of Fluorite's bottom forehead gemstone is, as it changes from a pentagon to a triangle to a rounded triangle throughout the events of "Off Colors" and "Lars' Head". This is most likely due to animation errors.
Gemology
As a lesser-known gemstone, fluorite hasn't gained much fame or legend, other than being known as the most colorful mineral in the world. The word 'fluorite', derived from the Latin verb 'to flow', refers to fluorite's use as a flux in steel and aluminum processing. It was originally named 'fluorspar' by miners and is still called fluorspar to this day. Fluorite is also used as a source of fluorine for fluorinated water. Many people believe fluorite has a calming effect on the body. During the eighteenth century, it was ground into powder and mixed with water to treat kidney disease. Ancient Romans believed that drinking alcoholic beverages out of vessels carved from fluorite would help prevent drunkenness, which is similar to the beliefs attached to purple amethyst.
v • e
Fusion Gems
---
Hybrid Fusions
Crystal Gem/Homeworld Gem Fusions

Community content is available under
CC-BY-SA
unless otherwise noted.