Jurassic World: Dominion Dominates Fandom Wikis - The Loop
Play Sound
"

Hello. This... is Mom Universe. Yes. The children are playing swords. Sorry—playing with swords. They're bleeding. Oh no, they are dead. Don't call again.

"
—Garnet
"Fusion Cuisine" is the 32nd episode of the first season in Steven Universe, and the 32nd episode overall.
Official Synopsis
In an effort to win over Connie's parents, Steven convinces the Gems to fuse together and pretend to be his mother.[2]
Plot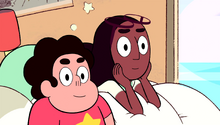 The episode starts out with Steven and Connie watching their favorite soap opera, Under the Knife. Connie gushes over how cool it is and thanks Steven for letting her watch it at his house. Steven asks why Connie cannot watch it at her house, and Connie says that her mom maintains that it does not represent a "real" emergency room. Just then, her mom calls, asking to speak to Steven's mom. Connie tells this to Steven, and he responds that she cannot, since his mom gave up her physical form to give birth to Steven. Connie says she cannot tell that to her mom, so they rush downstairs and ask Garnet to pretend to be Steven's mom. While on the phone, Garnet panics, (while sounding as stoic as ever), claiming that Steven and Connie were playing with swords and had killed each other. After briskly hanging up on Connie's mother, Garnet hands the phone back to Steven and calmly apologizes for panicking.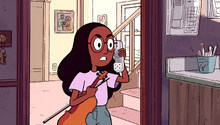 The next day, Steven calls Connie to see if she wants to see "the mid-season pre-finale of Under the Knife, but Connie says she cannot because her parents are upset and refuse to let Connie hang out with Steven until they have met both of his parents. Steven assumes that he is going to bring all of the Gems to the dinner, but Connie objects. Connie admits the fact that she told her parents that Steven lives in a nuclear family. Steven exclaims that the Crystal Gems are not radioactive, but then Connie explains the meaning of a nuclear family. Steven then suggests that Connie could simply tell her parents about the Crystal Gems, but Connie is afraid that her parents would not let her hang out with him again if they were to know that she lied to them.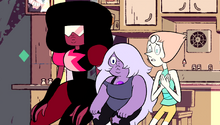 Steven struggles to choose one of the Gems to act as his mother because Garnet is not a good conversationalist, Amethyst is too gross, and Pearl does not like eating (because of digestion). Steven proposes that the Gems fuse into one but all the Gems quickly decline. Despite their quick refusal, after seeing how much this really means to Steven, they reluctantly accept.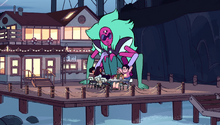 That night, the Maheswarans are impatiently waiting for Steven and his parents. Steven shows up 20 minutes late with Greg and Alexandrite, a huge six-armed fusion of Garnet, Amethyst, and Pearl. Greg introduces himself and then Alexandrite as his wife. Steven comes up with lies about how they met and what they do, much to the disapproval of Connie. After Alexandrite's much less than impeccable behavior at dinner, Connie asks to speak with Steven. Connie chastises Steven for bringing the giant Gem. After Steven realizes Connie still wears her glasses (despite her eyes being healed by him) he begins to suspect that Connie is ashamed of him, and they both return to the table. When they get back outside, Alexandrite begins to destabilize over eating shrimp. The discord causes her to split back into Garnet, Amethyst, and Pearl. Garnet, upset at Amethyst and Pearl for putting their needs before Steven's, chides them and smacks them on the head. Mrs. Maheswaran admonishes Connie for lying to her, which causes Connie to run crying to the bus stop, with Steven going after her.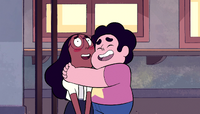 Connie and Steven decide to run away so they can be friends without having to worry about Connie's parents' disapproval. As they are leaving on a bus, the enraged Gems (fused back as Alexandrite) catch up to them and force them to return. The angry Gems chastise Steven in front of the Maheswarans. Garnet harshly punishes Steven with no dinner for 1,000 years, but Pearl insists that they would never starve him and takes away his TV privileges for 1,000 years instead, much to Steven's dismay. Greg says they did it because they love him. The Maheswarans, impressed with the Gems' parental abilities, allow Connie to hang out with Steven. Steven, overjoyed, hugs Connie, and Mr. Maheswaran promptly separates them.
Features
Characters
Objects
Locations
Music
Instrumental Songs
Trivia
This episode was originally named "Fusion Crime", but was changed to "Fusion Cuisine".
Connie's last name is revealed in this episode, which is Maheswaran.
This episode reveals that Pearl hates eating because she is horrified by the process of digestion.

In a Twitter response to a fan, Matt Burnett explained that Pearl likes the "Process" of pie (baking it) rather than the consumption of it.[3]

The promotional art shows Steven cooking the Crystal Gems.
The episode name is derived from the term Fusion Cuisine which is a cuisine that combines elements from different culinary traditions.
Sapphire and Ruby make their unofficial debut in this episode. When Alexandrite comes undone, for a split second Garnet's form splits into their two shapes before Garnet, Amethyst, and Pearl all fall to the ground. This is one of the audience's earliest clues about Garnet's nature as a fusion gem.

It is revealed in the first episode of The Steven Universe Podcast that Rebecca Sugar drew this frame.[4]

Connie is wearing the same outfit that she wore when she first met Steven in "Bubble Buddies".
Cultural References
Errors
The description for this episode was paired with another episode on Watch Cartoon Network and On Demand.
When Connie's mother says that the Gems and Greg are responsible parents and guardians, Steven's star on his shirt is missing.
For the majority of the dinner shots, the Alexandrite gem that would be in Amethyst's gem location has a pentagonal facet, whereas Amethyst's gem has a hexagonal facet.
After Alexandrite appears, the arms belonging to Amethyst (purple) change places with Pearl's arms (teal).
The bag of chips Amethyst was eating disappears when she asks "Why not?".
When Garnet's right hand was crunching the fork that Amethyst's hand was about to put in Alexandrite's mouth, Sapphire's gemstone was missing. Instead, Garnet's gemstones were on Pearl's arms.
The bangs on Amethyst's face changed to the opposite side of her face when she says "I love it when mush passes through my body!".
In the scene where Steven and Connie are escaping on the bus, Connie's mouth disappears for a frame.
While the Maheswaran's are commending the gem's parenting skills, the star on Steven's shirt is missing.
Transcript
View the episode's transcript here.
Gallery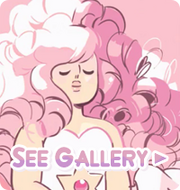 Videos
References