Jurassic World: Dominion Dominates Fandom Wikis - The Loop
Play Sound
"

I see so many things that can hurt you. I should never have let one of them be me.

"
—Garnet
"Future Vision" is the 39th episode of the first season of Steven Universe and the 39th episode overall.
Official Synopsis
Steven learns that Garnet can see into the future and becomes curious about the possible dangers that lurk around him.[2]
Plot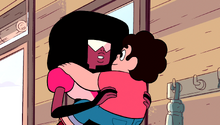 The episode begins with Steven cleaning up his room. He is replacing old toys and games with new ones, assuring himself that he has grown up and is a "big boy". As he walks down the stairs, Steven slips on a tennis ball and falls. However, before he hits the ground, Garnet catches him in her arms. Steven states that her being there was very lucky, but Garnet responds that luck had nothing to do with it. Steven presses her for more information, but Garnet hesitates to answer. Eventually, Garnet gives in and tells Steven that she can see into the future. They head down to the beach where they begin exercising. Eventually, Garnet gets tired of it and smashes the radio playing the music. Steven asks Garnet if she knows what he will have for breakfast. She states that Steven will probably go to the Big Donut since he is already outside. Impressed, Steven asks if there is a future where Garnet accompanies him. After thinking about it, Garnet complies.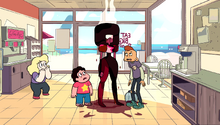 As they walk to the Big Donut, Steven asks about her powers, but Garnet is unsure of how to explain it to Steven. Garnet tries to explain the complexity of her powers using an example of a boat on a river that splits into numerous paths. She states that she steers the ship down the path that she thinks is best. At the Big Donut, Steven asks more trivial questions regarding his future, which Garnet answers with ease. However, when Garnet tells Steven that there is a future where Lars gives him a high five, he runs over to him. Lars is startled and drops a coffee pot, and it falls toward Steven. Garnet blocks the coffee with her body, shielding Steven from danger. Slightly perturbed, Steven leaves the Big Donut with Garnet.
They continue along the boardwalk and stop at Beach Citywalk Fries. Steven asks Garnet if he could die from eating fry bits. Garnet lists some ways he could die in a comical fashion, which Steven takes to heart. Succumbing to paranoia, he begins to fear everything around him, quickly going home.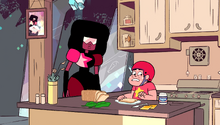 At the house, Steven is making a sandwich with extreme caution, wearing a bicycle helmet. He jumps when Garnet asks Steven if he is okay. She notes that he is wearing a helmet, and he says that he never knows when he will go on a bike ride. His fear renders him unable to even pick up the knife to make his sandwich. As he tries an alternative method to complete his sandwich, Pearl and Amethyst arrive, and the Gems prepare to warp out on a mission. Before they leave, Steven anxiously asks Garnet to tell him what will happen with his lunch. Garnet assures Steven not to worry but tells him to stay off the roof at all costs. While they are gone, it begins to rain, and Steven begins to think of more ways he could die. He confronts his emotions and decides to go onto the roof.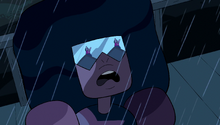 As soon as he reaches the top, the Warp Pad activates, and Garnet runs out to confront Steven. Steven states that everything he does would shove him towards the end. He asks Garnet why she had told him about her future vision, and what would happen to him on the roof. Garnet replies it's what happening right now, that she told Steven about her powers to help them become closer, even though she knew what could happen. She takes off her visor, telling him that she sees so many things that can hurt him, but she should not have let one of them become her. Garnet pleads with Steven to see reason and says that there are millions of possibilities for the future, but it is up to him to choose which becomes a reality. Steven slowly begins to agree as he comes back to his senses. He climbs off the roof and embraces Garnet, saying he will watch out for himself from now on. As they hug, Garnet deflects a lightning bolt, having foreseen it coming, protecting Steven from being struck by it. Steven inquires what happened, but Garnet assures him it was nothing.
Features
Characters
Objects
Locations
Music
Instrumental Songs
Trivia
Garnet's statement "I drink coffee for breakfast!" is a reference to the common phrase "I eat/drink X (such as nails) for breakfast", used to exaggerate toughness.
It is revealed that Garnet has "future vision", more commonly known as "precognition". It was hinted in "Arcade Mania" by Amethyst and Pearl, but Garnet had yet to confirm it until now. Additionally, this ability explains Garnet's aptitude for the Meat Beat Mania game in said episode.
Steven making a sandwich of lettuce, sliced cheese, and mayonnaise is a reference to one of Rebecca Sugar's more well-known animated shorts - "Singles". The short is about a character who experiences extreme anxiety, which may be a reason the short is referenced in this episode.
Cultural References
The bear that Steven has is a reference to Kanye West and his mascot Dropout Bear. Garnet's reaction to it is possibly a reference to the song "American Boy", on which her voice actress Estelle collaborated with West.
Many of Steven's toys are references to characters in other media:
Steven's posters parody actual franchises such as:

Star Wars (Star Battlers)
Naruto (Ninja Squad)

The character in the Ninja Squad poster vaguely resembles Ninja Hattori.

Naruto: Shippuden (New Ninja Squad)

New Ninja Squad may also be a reference to the "gritty reboot" trend which started becoming popular in the eighties and nineties during the Dark Age of Comic Books.

There is a coffee mug with the 2010 Cartoon Network Studios logo on it in Steven's room.
The scene where Garnet and Steven do a workout together is a parody of "Korean National Gymnastics (국민체조)". The song in the scene was also in Korean. It says, "Let's work out. One, two, two, two, three, two, four, two...."
The background animations during Steven's imaginary deaths are reminiscent of the background animations in ToeJam & Earl.
The chandelier that Steven imagines falling on him is reminiscent of a scene in The Phantom of the Opera.
The way Steven turns into a skeleton in his imaginary deaths is a nod to the way Arthur dies in Capcom's Ghosts 'n' Goblins series.
Continuity
Errors
Note: Time is displayed in [mm:ss]; [00:00] refers to the point after the title card is displayed and before the episode's start.
Plot
[01:04] When Steven's toys were scattered all over the floor, M.C. Bear Bear was not there, but in the next scene, Garnet is seen picking it up.
Design
[07:35] When Steven sits by the Beach House window, the wall has two light switches. After Steven closes the door, there is only one light switch.
[09:05] When the door opens by itself, it opens inward, but later in the episode, when Garnet exits the house, it opens outward.
[TBA] When Steven asks Garnet why she still told him about her future vision, the outline of his tongue overlaps his teeth for a split second.
[10:34] When Steven hugs Garnet, the handle of the door is on the left side, while earlier in the episode, it is on the right.
Transcript
View the episode's transcript here.
Gallery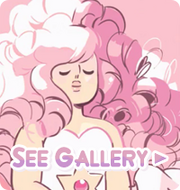 Videos
References