Garnet's Realm is a location that first appeared in "Steven Universe: The Movie". This is the realm where Ruby and Sapphire (after being reset) went to when they accidentally fused again.
Appearance
The background is a pink-blue gradient which represents Ruby and Sapphire respectively. The floor is blue.
Significance
This is where both Ruby and Sapphire reside when fused as Garnet. It is unknown if this is a place that actually exists, or simply a visual used in the song it appeared in.
Gallery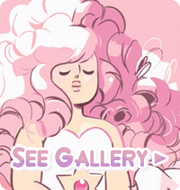 Community content is available under
CC-BY-SA
unless otherwise noted.