This article is about the Gem type. You may be looking for the Fusion Gem.
Garnets are Gems whose former purpose was for commanding fleets and colonies. They have yet to physically appear in the show other than the Crystal Gem, but Hessonite was illustrated by Nephrite in "Monster Reunion" and mentioned by Nephrite in "Legs From Here to Homeworld. Demantoids and Pyropes were mentioned by Blue Diamond in "Together Alone. All three known Garnets have only had physical appearances in the Light Trilogy, specifically Hessonite in Save the Light and Demantoid and Pyrope in Unleash the Light. Unlike other Gems, they have a different voice actress for each variant, with them being Christine Baranski, Kari Wahlgren, and Melissa Fahn.
Role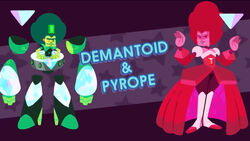 Main article: Caste System
Garnets were high-ranking Gems to command armies to conquer worlds and overseeing colonies. A select few Garnets were given Light Prisms to use as powerful weapons.
Physical Characteristics
Garnets are usually tall with afro-like hair, with Demantoid being the only known exception, being much shorter, and using Limb Enhancers to compensate. However, this is most likely due to her being an Era 2 Gem thus lacking resources. Normal Garnets also tend to be bulky and physically strong as Hessonite was able to take on most of the Crystal Gems by herself. All Garnets shown have also had rather bright and monochromatic color palettes. 
Main Garnets
Hessonite - The main antagonist of Save the Light. She was a Homeworld Commander during the Rebellion and was the superior of Nephrite's crew.
Demantoid - One of the main antagonists of Unleash the Light. An undersized Era 2 Gem who feels the need to fix the mistakes made by older Gems.
Pyrope - One of the main antagonists of Unleash the Light. A pompous Gem who wishes to be the new ruler of Gemkind.
Trivia
The Crystal Gem fusion Garnet resembles this type, despite having no in-universe relation to them. Rebecca Sugar has stated in the 18th episode of The Steven Universe Podcast that Garnet chose the name for herself due to this resemblance. It is worth noting that Rebecca Sugar has stated that statements made in the podcast do not constitute as finalized information, as fusions such as Smoky Quartz, Sunstone, and Malachite seem to imply that fusions do not "name themselves", but rather innately know their names much like singular Gems do.
Garnets are the only named Gem type to appear in external media but not the show itself.

However, Hessonite — Nephrite's commander — was pictured in Nephrite's drawings in "Monster Reunion".
Community content is available under
CC-BY-SA
unless otherwise noted.