Jurassic World: Dominion Dominates Fandom Wikis - The Loop
Play Sound
The Gem Battlefield is the location of a historic Gem battle between the Crystal Gems and the Homeworld Gems during The Rebellion. As of now, Steven and the Crystal Gems have visited the battlefield onscreen four times in "Serious Steven", "Rose's Scabbard", and "Bismuth". It is also indirectly shown in Pearl's hologram in "Sworn to the Sword", as well as seen in a flashback in "Buddy's Book" in which it is revealed to be located in Scandinavia, specifically in Norway. It is currently overrun by wild strawberries and butterflies, existing in stark contrast with the battle wreckage still strewn throughout the location.
History
"Serious Steven"
The Crystal Gems travel here to retrieve an ancient gemstone located inside the Pyramid Temple in the Obelisk.
"Rose's Scabbard"
Pearl reveals that the field is the site of a historic battle that occurred over 5,000 years ago. Garnet states that many Gems were defeated and shattered in the combat, and describes the past events at the battlefield to be "a maelstrom of destruction and death".
"Sworn to the Sword"
Pearl shows (in her holograms) some of the battles that took place in the field. The field appeared barren and engulfed in flames, with battle wreckage scattered throughout the battlefield. In this hologram, Pearl is shown defending Rose Quartz from an unknown Gem warrior.
"Bismuth"
The Crystal Gems, rejoined by Bismuth, return to the battlefield, where Bismuth exclaims they were "just here." Pearl then reveals to Bismuth that she has been missing for about 5,300 years, which appears to be how long ago the battle happened.
The Gem Battlefield is the second area in Attack the Light.
The boss is the Green Light.
In addition to the Green Light, the purple light is captured in a cutscene.
The theme song is "Strawberry Battlefield".
This location is home to the green beetle, flower, and fly light monsters.
Trivia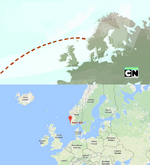 In "Buddy's Book" and a concept map by Joe Johnston in Steven Universe: Art & Origins, the Gem Battlefield is shown located in Norway. In the real world, this is not too far off from the location of the Sverd i fjell, a monument that consists of three large swords embedded in the ground. Rogaland, this region of Norway, is also known for their sweet strawberries.
Gallery