This article is about Gem Destabilizers. You may be looking for Gem Rejuvenators.
A Gem Destabilizer is a weapon designed to instantly destabilize a Gem's physical form. The yellow Gem Destabilizer appears to have been modeled on Yellow Diamond's power to generate a type of lightning bolt-current that paralyzes and poofs Gems.
Appearance
Yellow
The Yellow Gem Destabilizer resembles a goldish-brown arrowhead-tipped tuning fork with a pale yellow oval-shaped orb suspended between the tips. It gives off streams of static energy between the orb and hilt.
Blue
The blue Gem Destabilizer has a somewhat similar shape to its yellow counterpart, though the shape of the weapon leading up to the end is smoother compared to a more jagged shape. The blue Gem Destabilizer has no electric charge but contains a blue orb at the end. It is unknown if the effects are any different compared to the yellow Gem Destabilizer, as it was not shown being used.
Abilities
Gem Destabilizers essentially dissolve a Gem's body on contact with the operational end. Lines of yellow energy course through a Gem's body, sometimes dismembering their physical form upon contact and release therefore forcing the Gem's consciousness to retreat into their gemstone. This process will disrupt even the most stable Fusion Gems. The containment fields of the Gem prison cells first seen aboard the Gem Warship utilize a similar effect, destabilizing any part of a Gem's physical form that comes into contact with them.
While older Gem weapons employ brutal force from which a Gem may require days or weeks to recover a Gem Destabilizer will merely knock a Gem out of commission for a short period, perhaps only a few hours. This is still sufficient to collect and imprison the inactive gemstone making it arguably more efficient than the original method of poofing and bubbling.
The Gem Destabilizers and containment fields have proven to be ineffective against the half-Gem, half-human Steven Universe. Subjection to either devices results in him being slightly shocked and colored lines appearing on his skin; this is probably due to his body being organic and not made of light as stated by Pearl and Garnet.
Trivia
Because Jasper and Peridot have Yellow Gem Destabilizers and Aquamarine has Blue Gem Destabilizers on her ship it can be assumed that Gems belonging to certain Diamonds determines what Destabilizer of which color they wield.

Both Jasper and Peridot are seen wielding Gem Destabilizers, implying they are standard-issue personal defense weapons for Homeworld Gems in Era 2.
Since Gem ships have been shown to carry Gem Destabilizers it could be assumed that all Era-2 Gem ships have them onboard.

The Gem Destabilizers seem to be based on a tuning fork and the principles of mechanical resonance. All crystalline compounds have resonant frequencies which cause them to fracture when exposed to certain wavelengths of sound. This is appropriate considering the effects a Destabilizer visibly inflicted on Garnet in "The Return".

Its use of electrical charges suggests it might be based on a close-range taser, a weapon that also uses electric shocks to subdue targets.
Its design also resembles a cattle prod, another kind of close-range weapon utilizing electrical discharges.

The flashback during Garnet's story in "Gemcation" shows Pink Diamond fighting the Crystal Gems with an object resembling a Destabilizer in each hand.
Gallery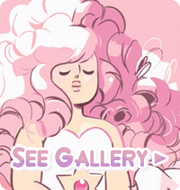 Community content is available under
CC-BY-SA
unless otherwise noted.