Jurassic World: Dominion Dominates Fandom Wikis - The Loop
Play Sound
This article is about the episode. You may be looking for the DVD.
"

I summon my weapon by eating ice cream!

"
—Steven
"Gem Glow" is the 1st episode in the first season of Steven Universe, and the 1st episode overall in the series.
Official Synopsis
Steven thinks his favorite ice cream sandwiches are the trick to summoning his magic shield, but he learns otherwise when facing off with an acid-spewing insect monster.[2]
Plot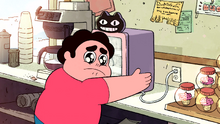 The series begins with Steven visiting the Big Donut, where he becomes distraught after finding out that the Cookie Cat ice cream brand has been discontinued because a recent competitor, Lion Lickers, has become more popular in sales. As an act of consolation, Sadie lets him take the freezer they were originally sold in. When he gets home, he finds Amethyst, Pearl, and Garnet locked in battle with Centipeetles that have invaded Steven's room. They destroyed most of them but did not find the gems they usually receive after "poofing" the Gem's form. Garnet believes that the mother Centipeetle must be nearby, controlling the others. Steven drives one off the fridge and finds a lot of Cookie Cats in the freezer. The Gems explain how they got some from a nearby factory since they knew they were his favorite, and decided to buy the last remaining batch for him. Delighted, he begins to sing the Cookie Cat theme song from a television advertisement. He then takes a bite of a Cookie Cat, and his gem starts to glow. Amethyst tells him to try to summon his weapon, but Steven does not know how. Eventually, his gem stops glowing, leaving Steven disappointed. He asks to be taught how to summon a weapon, and Pearl volunteers to show him first.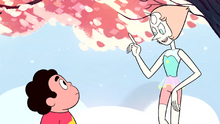 Pearl takes him to a tree with petals falling continuously and tells him that each petal falling to the ground is not moving randomly, but precisely, based on the physical properties of the Earth, and that this can be mastered by training hard. She then summons her spear as a demonstration. Steven picks up and throws a handful of petals, but still doesn't understand what Pearl is trying to say. Steven then goes to Amethyst, who is behind the Big Donut. Amethyst explains that whenever she needs her weapon, it just comes to her naturally. She demonstrates by pulling out her whip and slicing a dumpster in half. Steven is lost because what Amethyst said was the opposite of what Pearl told him. Lars then comes out of the Big Donut, sees the dumpster in half, and exclaims "Again?!". Steven then visits Garnet last, at the top of the Crystal Temple. He asks if he has to train hard and not worry at the same time, to which she replies affirmatively. She tells him the alternative is to connect with all living matter and energy around him, which is her method for pulling out her gauntlets. Steven still doesn't understand.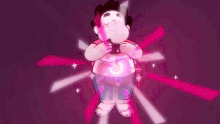 Steven decides to recreate what happened when his gem first started to glow. He attempts to make everything exactly as it was before and sings his song again. This fails, and he wonders whether he's cut out to be a Crystal Gem. The others say that he is silly, and reassure him that he is one of them. He eats another Cookie Cat in reassurance when his gem suddenly starts glowing brighter than it did before. It glows to the point where his weapon is finally revealed: a shield. The others bask, and Steven gets too excited, losing control of it. His shield starts bouncing around the house and smashes into the TV, which Amethyst finds hilarious while Pearl groans.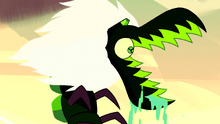 Steven concludes that he can summon his weapon by eating ice cream. When Pearl looks at the wrapper, wondering what its ingredients are, the ground suddenly starts rumbling, and the Centipeetle Mother (a corrupted Nephrite) appears outside. Amethyst, Pearl, and Garnet go outside, but tell Steven to stay inside. They engage in battle, but Steven grabs the Cookie Cat freezer along with the Cookie Cats and goes outside to help. He finds that the Gems are losing the battle. Steven captures the monster's attention and eats a Cookie Cat, ready to summon his shield. However, he fails to summon it and decides to retreat. He desperately eats the remaining Cookie Cats, wondering why it's not working. When he sees Nephrite damage the Cookie Cat freezer, he is distraught and gets a new wave of courage. He grabs the freezer by the plug and throws the broken freezer at Nephrite, electrocuting her. The Gems then defeat Nephrite, and Garnet bubbles her gem, sending it to the temple.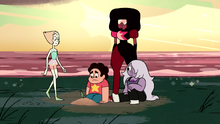 Steven buries the wrappers of the Cookie Cats and begins to sob. With the aid of the Crystal Gems, he resolves that he is unable to summon his weapon by eating ice cream. Then the Gems cheer him up by saying that he'll figure out how his gem works "in his own Steven-y way." He starts feeling queasy and states he might have eaten too many Cookie Cats, and Pearl and Amethyst laugh. Before the iris closes in on him, Steven laughs anxiously, then retches.

Features
Characters
Locations
Objects
Music
Songs
Instrumental Songs
Trivia
Cultural References
Continuity
Errors
Note: Time is displayed in [mm:ss]; [00:00] refers to the point after the title card is displayed and before the episode's start.
Plot
[07:34] When Nephrite climbs the Temple, she is also followed by a few Centipeetles, which disappear as the Gems leave the Beach House.
[08:50] When Steven overeats Cookie Cats, the mini-fridge's cable is in a loop, but when Nephrite attacks, it is not in a loop.
[10:04] When Garnet picks up Nephrite's gem, she uses her left hand, but when she bubbles it away, she is seen using her right hand.
Design
[00:09] When Steven hugs Lars, the cash register looks one way, but three seconds later, the register is a mirror image of what it was.
[00:23] In some scenes in the Big Donut, a yellow shoe advertisement is partially behind the Cookie Cat fridge, but it can be fully seen in other scenes.
[04:03] The star on Steven's shirt disappears, returning in his next scene.
[05:18] Amethyst's tongue is purple instead of its normal color.
[06:26] Pearl's socks disappear, and Garnet's shoulder pads have swapped colors.
[07:39] Garnet's shoulder pads have swapped colors.
[07:55] The star of Steven's shirt is light pink instead of yellow.
[08:05] The beach appears to be a grassland rather than a sandy beach like it's supposed to be.
[09:30] When Nephrite attempts to spew more acid on the Crystal Gems, the lower part of Amethyst's tank top is colored white.
[09:33] When Steven is mad about how Nephrite ruined his Cookie Cat fridge, the star on his shirt has an outline when it should not.
[TBA] The picture that's usually seen hanging on the wall by the fridge keeps on disappearing and reappearing throughout the episode.
Transcript
View the episode's transcript here.
Gallery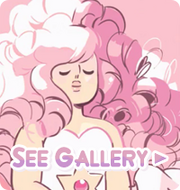 Videos
References