Jurassic World: Dominion Dominates Fandom Wikis - The Loop
Play Sound
"

You weren't supposed to fight. You were supposed to call me, and you did. This was a total success.

"
—Pearl
"Gem Hunt" is the 17th episode of the third season of Steven Universe and the 95th episode overall.
Official Synopsis
Steven and Connie track a Gem monster through the wilderness but her tracks lead them to mystery.[3]
Plot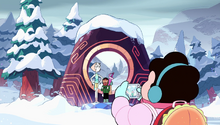 Steven, Connie, and Pearl warp to the Great North and in front of a large Wailing Stone. Steven takes lots of pictures with his phone per Mr. and Mrs. Maheswaran's requests. The first one he takes is Pearl and Connie smiling, the second one like they are looking for a monster, the third like they made a joke, and the fourth one was where the joke was not that funny. The fifth request gets interrupted by Pearl, saying that it is enough photography. Steven urges because it is Connie's first mission. Connie thanks Pearl for allowing her to come along to help them find a Corrupted Gem and takes it as an honor to work along Pearl. Pearl compliments Connie about her impressive sword fighting which have exceeded her expectations, she also states that with her careful supervision, she is confident Connie will be able to accomplish a simple Gem recovery mission. Connie thanks Pearl and promises she would not let her down while Steven takes a picture secretly and whispers "Connie's first mission," while rubbing his cheeks.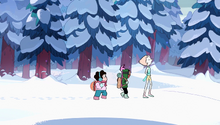 While walking on the snow, leaving their footprints and venturing deeper into the ever white snow lands of the North, Pearl asks Connie to recap the mission. Connie replies that Garnet sensed some Corrupted Gem activity in the North; it is their job to locate her, destabilize her, and bubble her. Pearl tells Connie and Steven that their human bodies can not last in the extreme cold and to be extra careful. Connie replies that it is okay because she packed all that she needs to survive in the wilderness and Steven says he brought his board games in case they get bored.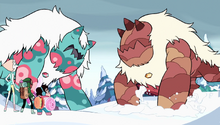 As Connie asks how they would know whether a Corrupted Gem is nearby, a huge roar is heard. Pearl says "that's how" and a gigantic green-colored, pink-and-dark green spotted Corrupted Gem appears. As the Corrupted Gem roars, steam evaporates from her ghastly mouth. Connie readies herself while Steven takes a quick snapshot. Pearl exclaims that Connie and Steven have to work together; Connie quickly takes out her sword, Steven summons his shield, and they ready themselves to battle. Suddenly, another brown rock-based Corrupted Gem, similar in size and shape to the first, appears. Both roar as Pearl summons her spear. The two Gem Monsters seem to be communicating with each other and suddenly charge in the direction of Pearl, Steven, and Connie. Pearl quickly tells Steven to summon a bubble. The Gem Monsters jump over them and run away in two different directions rather than face them.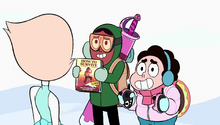 When Pearl starts saying she did not think there were two Gems at the location and that they should return to the Crystal Temple, Connie quickly tells Pearl that they should split up. Pearl tells Connie that she is her pupil and knows that her combat skills are excellent but states it being too risky because she has never been in a real fight before. Steven tells Pearl about the Gem Mutants they fought in the hospital and quickly interrupts Pearl by taking out a Cookie Cat walkie-talkie to help communicate with each other when necessary and Connie takes out a survival guide book that she read at least 20 times. Both look at Pearl, who, having lost a battle of will, decides to allow it under the condition that they would contact her the very moment they find the monster because she does not want them fighting her alone. She recaps what she says and makes sure Steven and Connie remember it and helps lighten the mood by asking "who's your favorite Gem?" Steven immediately says "Pearl" in a slightly scolding tone upon which she thanks him. She tells them to be safe as she takes the left path.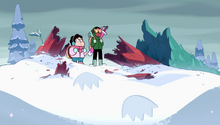 Steven and Connie follow the tracks left by the green-colored Corrupted Gem. Steven is impressed by Connie's wilderness survival skills, saying that they could be useful if Homeworld invades Earth, though Connie believes that human society could collapse on its own. Pearl interrupts the two with her walkie-talkie, reminding them to eat if they are hungry. They eat protein bars before they continue on, discussing the nature of Corrupted Gems, and Steven admits that he does not know how Corruption works. Steven cheers himself up by rolling down a hill, while Connie takes a piece of wood from a fallen tree to snowboard down. Pearl calls again; having had no luck finding any monsters, she suggests regrouping at the Temple, but Connie insists that they can take care of things by themselves. Pearl lets them continue.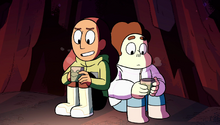 The two find tracks in a humanoid shape along with the Corrupted Gem's paw-shaped tracks. A blizzard comes, so Connie and Steven take shelter in a hollowed tree. While they drink tea brewed by Connie from pine needles for their Vitamin C, Connie and Steven discuss the humanoid tracks. Steven thinks they could be caused by the Corrupted Gem being half-Corrupted, causing her to turn humanoid before turning back into a monster. They hear a roar and follow more tracks to the aquamarine-colored Corrupted Gem.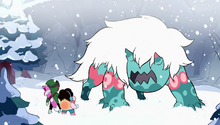 The Corrupted Gem is scratching at the rock wall. Steven and Connie attempt to be quiet so they will not attract her attention, but Pearl calls on the walkie-talkie. The noise draws the Corrupted Gem's attention. Steven finds his hands slipping on the walkie-talkie's switch as he attempts to turn it off. Pearl continues to speak through the device, and in desperation, Steven throws away the walkie-talkie. He tries talking to the Gem, but the Gem growls, baring her teeth. Connie takes the Gem's growling as a sign of aggression and she draws her sword; the sword's glint causes the Gem to attack them. Steven immediately summons a bubble and the Gem presses her paws against it. She manages to pop Steven's bubble, pushing them out of the Gem's reach.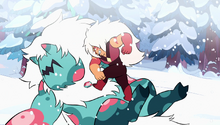 Connie throws a snowball at the Gem to bring her attention to her, but she hesitates to attack, saying that she was not prepared for this. Pearl calls again, unaware of Steven and Connie's situation, which causes Connie to regain her resolve. She slides past the Gem, recovers the walkie-talkie and calls Pearl, informing her that they have found the Gem. Immediately after the call, Jasper charges into the Gem. While Steven rejoins Connie and raises his bubble in fear of Jasper, the Homeworld Gem easily overpowers the Gem Monster and pulls the gemstone from her body, causing her to poof. She looks at the aquamarine gem, with the brown gem in her other hand, showing that she has already claimed the brown Gem Monster. Connie realizes that the Gems were running from Jasper.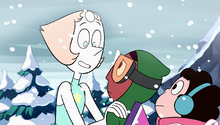 Pearl arrives, sees Jasper, and raises her spear in defense. Jasper chuckles, and shows off the gemstones in her hands to Steven, addressing him as Rose. Steven takes a photo of Jasper and the Corrupted Gems, then Jasper walks away into the blizzard. Pearl is relieved to see Jasper leave, and she tells Connie she would not have brought her on the mission if she knew Jasper would be present. Connie considers her mission a failure since she found herself unable to fight earlier. However, Pearl considers Connie's mission a total success, since she had followed Pearl's instructions to call her when they found the Gem. Steven takes a group selfie to celebrate their success. While Connie and Pearl begin walking back, Steven scrolls back to his photo of Jasper and the Gems.
Features
Characters
Objects
Locations
Music
Songs
Instrumental Songs
Trivia
This episode's name was first revealed in the episode listing on the Cartoon Network website.[4]
Cultural References
Connie talking about being prepared for peak oil and the fall of civilization is similar to doomsday preppers.
Steven and Connie talking about people dressed up as monsters is a reference to the 1960s cartoon Scooby-Doo.
Continuity
Errors
Note: Time is displayed in [mm:ss]; [00:00] refers to the point after the title card is displayed and before the episode's start.
Plot
[04:49] When Steven rolls down the hill by the destroyed tree he stops at a snow pile. But in the next scene, after Connie slides down to him, he is in the snow pile.
Design
[10:43] Steven takes a picture of Jasper holding the two gems when he was inside of his bubble. However, when Steven looks through the pictures on his phone, the photo of Jasper does not have a pink tint.
Transcript
View the episode's transcript here.
Gallery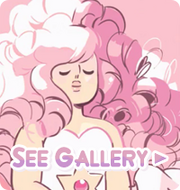 Videos
References