"Gem Karaoke" is a short, originally released on iTunes, and Cartoon Network's Youtube channel.[1][2]
Synopsis
Connie documents Steven and the Gems singing their hearts out to a prerecorded backing track.
Plot
The video begins with Connie, who states that she is recording the video on camera. Steven thanks her and tells Pearl the number of the video, but Pearl tells him that she is having trouble. She asks Steven if it's the right number, and he replies that she needs to press the start button. She does so and the instrumental track begins. Steven asks if Connie wants to sing, but she says that they should sing. Steven starts singing, then Amethyst sings the next few lines. Garnet sings part of the song next, then Pearl. Steven states that the best part of the song is coming up, and Connie should join in. She accepts and starts singing, and they all join in. They finish the song and laugh, and Pearl and Amethyst congratulate Connie on her good singing. The song starts over and Amethyst inquires how many times Pearl typed the song number in before hitting start. Pearl says it was about 15 times, and Connie shouts "Encore!". Then the short ends.
Features
Characters
Objects
Karaoke machine
Karaoke song book
Microphones
Tambourine
Locations
Music
Song
Instrumental Songs
Cultural References
Amethyst saying "I can't wait no more's" is spoken in a similar way to Popeye's famous lines, "I can't stands no mores."[3]
Amethyst shouting "Yeah boyyy" is a reference to artist Flavor Flav's famous catchphrase.
Continuity
Errors
When it was Connie's turn to sing, the stool Pearl was sitting on disappears.
When Pearl stopped singing, Connie's part should immediately begin, as heard in the episode Sadie's Song, yet she was able to sing the whole part even though she was talking to Steven while the song was running.

This isn't necessarily true, however, as in "Sadie's Song", it cuts to Sadie practicing the verse in The Big Donut, with the music reduced to nothing more than Steven's Ukulele. As such, it is unknown if this is how the actual recorded song goes out, or if there is in fact an instrumental break after the "I'm too famous" line.
The official full version of the song released on Soundtrack: Volume 1 does not feature an instrumental break, further hinting to the fact that this is an error.
Transcript
View the episode's transcript here.
Gallery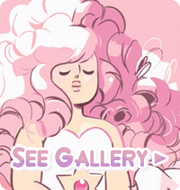 References
Community content is available under
CC-BY-SA
unless otherwise noted.