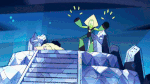 "You have to fix this!"
This article is about the Gem Rejuvenator. You may be looking for the Gem Destabilizer.
The Gem Rejuvenator is a Gem Weapon used by Spinel in Steven Universe: The Movie. It possesses the ability to strip Gems of their memories causing them to revert to their original selves.
Appearance
In its inactive state the Rejuvenator is a small magenta grip with a pink switch approximately two inches below its hilt. Upon activation a long dark-magenta pole extends from the grip with a gemstone-like object on the tip of the staff. From there two beams of pink energy extend from either side of the faux-gemstone with one of the beams coalescing into a short v-cut blade and the other becoming much longer and scythe-shaped. Sometimes bands of pink energy can be seen crackling around the blades.
Abilities
The Rejuvenator works similarly to a Gem Destabilizer as any Gems struck will be immediately poofed. However, upon reforming the Gems will not remember anything other than their original purposes. The affected Gems will also revert to their very first outfits when they were created. It is possible to restore affected Gems' memories by recreating the events or feelings which have had the greatest influence over those particular Gems.
Much like the Destabilizer, it proves ineffective against non-Gems with no visible damage. However, it had a different effect on Steven Universe, who is a human-Gem hybrid: his gemstone took the brunt of the attack and his powers became severely weakened. For example, he was incapable of summoning his mother's shield for more than a few seconds and could not store objects in Lion's mane or bubble Spinel's gemstone after she was poofed. Even before he was depowered the Rejuvenator had been able to cut right through the shield.
History
According to Bismuth, this weapon was once used by the Gem Homeworld to reset Gems that were seen to have defected. However, since the Gems were able to restore their memories from moments or events related to what influenced them most the Rejuvenator was discontinued in favor of other weapons and technology such as the Destabilizer and Shattering Robonoids. The only one known to have existed in the current day was Spinel's weapon of choice.
Trivia
According to Rebecca Sugar at a book signing, Spinel got her bio-poison filled Injector and rejuvenator due to her higher status from her connection to Pink Diamond.
The film's Rejuvenator's appearance is based on that of a scythe, something often associated with death in western lore and fiction. However, a scythe is also an agricultural tool used to reap mature crops enabling new ones to take their place.

This is symbolically used in the movie as it causes the "deaths" of the affected Gems' personalities but resets them so they are "reborn" with their original appearances and mindsets.

It shares many features with the futuristic weapons, especially lightsabers from the Star Wars franchise: both weapons have blades made of pure energy which can slice through most materials and are extendable and collapsible via a button on the hilt. Additionally, both weapons start off as small cylindrical grips that when activated elongate into technologically-advanced versions of rather archaic weapons.

Peridot inadvertently referenced this parallel when asking if the Rejuvenator had a laser.

Gems who restore their memories keep the same form they had before being poofed by a Rejuvenator.
Gallery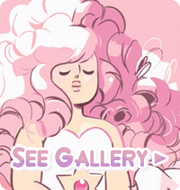 Community content is available under
CC-BY-SA
unless otherwise noted.