Doctor Strange in The Multiverse o Madness - The Loop
Play Sound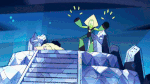 "You have to fix this!"
George (formerly known as the Light Warrior, White Light, and briefly known as Light Steven) is the embodiment of the Light Prism and was Hessonite's prism, before she lost it during the Gem War. He is a major character in the Light series, and acts as the final and penultimate boss in Attack the Light and Save the Light respectively.
He returns in Unleash the Light, with a new look and a new name for himself, George. In this game, he is now a supporting character, who aids the Crystal Gems, so he can free his fellow Prisms from Demantoid and Pyrope.
Appearance
George has a varied appearance depending on which game he is in, however he always tends to have a light color scheme that radiates light.
He had a white suit that had many red lines and accents with a white diamond in the center. It was angular and low to the ground, having shirt and thick arms and legs levitating from it.
Spectral
He had a similar appearance, how having much more detail. Some of the new deatails were a golden crown-like accent, larger arms and fibers, and wider legs and feet.
He had a more simplified design, being mostly light lavender with stripes and lines of dark plum. It's shape is nearly identical to it's first form.
He now has an actual body, resembling a chubby humanoid with bright white skin, teal eyes, and a large teal mouth with a cyan tongue. He sits on top of the Prism, since the Prism is projecting his body (similar to how a Gem's gemstone projects their body).
Attack the Light
It is located in the Fire Zone and is the combined light of all the Prism Monsters. It's fighting style is based on randomizing the Prism Monsters' abilities by shifting to their specific color.
Abilities
Cumulative Strength: Being the combined energy of all the previous bosses fought, it has all their powers, as well as the powers of the unfought Lights.
Light Change: White Light will change it's color. The color White Light changes into determines which attack it will use next.
Boss Fight
White Light has all the powers of the previously fought bosses and more. When it's color is Red, it will throw a large bouncing energy sphere at one of the Gems, which deals massive damage. When Orange, it will launch 3 fireballs into the air and onto each of the Gems, which, if not blocked, will lower each Gems defense. It only turns Yellow during fight intervals, during which it will speak to Steven. When Green, White Light will heal itself 50 hp before shifting to another color. When Blue, the boss will fire an electrical orb at one of the Gems which will paralyze them if not blocked. When it turns to the color Indigo, it will spawn in a Red Scorpion enemy to assist in battle. Lastly, when it turns Violet, it will fire a laser straight through one of the Gems. Once it's health is low enough to be immune to any attack, it will begin communicating with Steven clearly. At this point, the player must choose the right dialogue box, or White Light will interrupt with a Violet Laser. If the correct dialogue is chosen, White Light changes itself to a form which resembles Steven and call itself "Light Steven" before fading away, thus ending the game.
Save the Light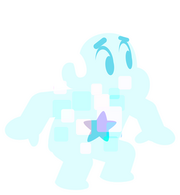 White Light reappears in it's "Light Steven" form from the previous game, after a brief introduction video in which Steven tells Connie the story of how they met. Light Steven quickly becomes distressed and leaves, leading Steven and Connie to Greg's car wash as the Prism's former owner, Hessonite, arrives. Hessonite takes the Prism and starts bringing it to various locations of past battles fought on Earth but is disturbed to find out that the White Light no longer wants to be a weapon. At various points throughout the game, the progagonists briefly catch up with Hessonite and glimpse her attempts to make it return to it's old ways. Along the way, White Light leaves behind small refractions in the form of small white Stevens, which can be grabbed for a small XP-boost for whichever playable character claims it. In the end, the Prism is rescued and decides to explore the Earth itself.
Light Warrior
TBA
Spectral Conclusion
TBA
Unleash the Light
A little while after the dawn of Era 3, the White Light (who now has a new look and a new name, George) returns in this game and aids the Crystal Gems in liberating the other two Light Prisms from Pyrope and Demantoid. In the end, after the two Garnets are defeated, and after making amends with Hessonite, George decides to live in the Palace of Light, alongside the other two Prisms and Hessonite.
Abilities
Refracted Light Barrier Opening: Using his Light altering abilities, he can disable any light barrier, or any other light construct, made by himself or his fellow prisms.
Custom Charm Creation: TBA
While different from regular Gem fusion, George does have the ability to combine, or fuse, his light with the other Prisms' lights to form even more powerful light constructs. When he was forced to fuse with Pyrope and Demantoid's Prisms, they formed the Giant Prism Fusion, a giant humanoid light construct, with a triangular shaped head and several arms. It was defeated by Steven and Hessonite, who managed to reach out to George, saving him and the other Prisms from being weapons again.
Trivia
Despite their not being fought in the game, White Light has the powers of Violet Light, Yellow Light, and Red Light.

However, the White Light does not have a form or usage correlating to the Violet Light.

The boss does not have an attack with the Yellow Light form but will always communicate to Steven in this form.
In Unleash the Light, George speaks exclusively in Gem Glyph, and is understood by both Gems and Steven.

This script is actually a translatable English substitution cipher.

George considers his fellow Prisms his "sisters".
In his original form, the prism he inhabits functioned like an eye, being located at the center of his body. In his current form, his prism is separate from his physical body, and he sits on top of it.
Gallery