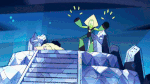 "You have to fix this!"
The Light Warrior, also known as White Light, briefly as Light Steven and currently known as George, is the embodiment of the Light Prism. He is a character in the Light series, and acts as the final and penultimate boss in Attack the Light and Save the Light respectively.
The Light Warrior returns in Unleash the Light, having now named himself George, and is now a supporting character who wants to free his fellow Prisms from Demantoid and Pyrope.
Appearance
George has a varied appearance depending on which game he is in, however he always tends to have a light color scheme that radiates light.
He had a white suit that had many red lines and accents with a white diamond in the center. It was angular and low to the ground, having shirt and thick arms and legs levitating from it.
Spectral
He had a similar appearance, how having much more detail. Some of the new deatails were a golden crown-like accent, larger arms and fibers, and wider legs and feet.
He had a more simplified design, being mostly light lavender with stripes and lines of dark plum. It's shape is nearly identical to its first form.
He now has an actual body, resembling a chubby humanoid with bright white skin, teal eyes, and a large teal mouth with a cyan tounge. He also now sits in the light prism.
Attack the Light
It is located in the Fire Zone and is the combined light of all the Prism Monsters. Its fighting style is based on randomizing the Prism Monsters' abilities by shifting to their specific color.
Abilities
(Ability titles presumed from gameplay, not official)
Cumulative Strength: Being the combined energy of all the previous bosses fought, it has all their powers, as well as the powers of the unfought Lights.
Light Change: White Light will change its color. The color White Light changes into determines which attack it will use next.
Boss Fight
White Light has all the powers of the previously fought bosses and more. Once its health is low enough to be immune to any attack, it will begin communicating with Steven clearly. At this point, the player must choose the right dialogue box, or White Light will interrupt with Indigo Laser. White Light changes itself to Steven form as Steven called him "Light Steven".
Save the Light
TBA
Unleash the Light
Abilities
Refracted Light Barrier Opening: TBA
Custom Charm Creation: TBA
Trivia
Despite their not being fought in the game, White Light has the powers of Violet Light, Yellow Light, and Red Light.

However, the White Light does not have a form or usage correlating to the Violet Light.

The boss does not have an attack with the Yellow Light form but will always communicate to Steven in this form.
In Unleash the Light, George speaks exclusively in Gem Glyph, and is understood by both Gems and Steven.

This script is actually a translatable English substitution cipher.

George considers his fellow Prisms his "sisters".
In his original form, the prism he inhabits functioned like an eye, being located at the center of his body. In his current form, his prism is separate from his physical body, and he sits on top of it.
Gallery
Community content is available under
CC-BY-SA
unless otherwise noted.