"

All I wanna do, is see you turn into...

"
—Steven and Opal
"Giant Woman" is the 12th episode in the first season of Steven Universe, and the 12th episode overall.
Synopsis
During a mission to the Sky Spire, Steven tries to convince Amethyst and Pearl to fuse together and become a giant woman.[2]
Plot
The episode begins with Pearl and Amethyst playing checkers, a game which Pearl wins with ease. Amethyst and Pearl then start an argument over why they don't "form Opal anymore." An excited Steven starts asking questions, so Pearl manipulates sand to form an image of Opal to explain what happens when the two (Amethyst and Pearl) perform a dance-like ritual to combine into a single, more formidable Crystal Gem named Opal. Amethyst interrupts, saying that she doesn't dance in the manner Pearl showed, and continues to describe what Opal is like, which makes Steven want Pearl and Amethyst to fuse together. However, he is interrupted as he notices that Garnet has returned from her mission. At the house, Garnet tells the other gems and Steven to go to the Sky Spire and retrieve the Heaven Beetle while she goes and retrieves the Earth Beetle, telling Steven to keep the harmony between Pearl and Amethyst. At the Sky Spire, Steven keeps pestering his friends with trivial questions about how the fusion works as he sings about his desire to see them combine into a "giant woman", to which Pearl explains that they only fuse together when there is an emergency. During the trip, Steven finds a mountain goat and names him Steven Jr.
Eventually, the trio (and Steven Jr.) come across an area of small platform-like islands. Amethyst throws Steven onto one of the platforms, and as the two begin messing around on it, Steven falls.Pearl and Amethyst are quickly forced to work together to save Steven. They successfully save him, but when they reach the top of the Spire, the Heaven Beetle is discovered to be missing from its home. Pearl and Amethyst start to argue again, when suddenly the trio is attacked by a giant bird. The bird eats Steven Jr., much to Steven's terror. Pearl then attempts to throw her spear at the bird, but it too is eaten. The trio then flees into the nearby dome, where Steven encourages Pearl and Amethyst to fuse into Opal. Pearl and Amethyst then attempt to fuse together, with Pearl dancing gracefully and Amethyst dancing in a funky, unique style. Because of this lack of synchronization, the fusion fails. Suddenly, the giant bird's beak breaks in through the roof, and it eats Steven. When inside the bird, Steven finds Steven Jr. chewing on the Heaven Beetle. Steven manages to get the Heaven Beetle out of Steven Jr.'s mouth and puts the artifact in his pocket. Suddenly, several arms punch into the bird's stomach and drag Steven out, and he finds that his savior is a tall, blue-skinned woman with four arms: Opal, the fusion of Amethyst and Pearl. She then fuses Amethyst and Pearl's weapons together into a bow, and uses it to defeat all of the smaller birds. Steven was astonished, and on top of that he didn't recognize at the time at Opal was a fusion, until she said the lyrics "All you wanna do, is see me turn into...," (a part of the song Steven had been singing earlier), recognizing that this was the giant woman he was looking for.
Opal and Steven then warp back to the house. When Garnet asks about the Heaven Beetle, Opal realizes with horror that she doesn't have it, and the sudden surge of emotion causes the two gems to separate again. They then start arguing about why they forgot the Heaven Beetle, before Steven stops the argument by taking the Heaven Beetle out of his pocket and giving it to Garnet. She places the Beetle into a bug cage with the Earth Beetle, and she then bubbles it. As the episode closes, Garnet tells Steven that he will be great at fusing one day. The star-shaped iris closes in on Steven, but zooms out when Steven has an excited outburst at the implication that he can fuse with the others as well.
Features
Characters
Objects
Locations
Sky Spire Mountains (first appearance)
Production Notes
Song(s)
Soundtracks
Trivia
If Garnet is not included, this is the first episode to feature a Gem fusion.
It is shown that Pearl has the ability to manipulate sand.
It is stated that Garnet is the the only Crystal Gem that has the ability to swim in lava.
Opal is the first known Crystal Gem that has a precious gemstone as a name. Garnet, Amethyst, Pearl, and Rose Quartz are all semi-precious stones.
This is the first episode to not completely end with a star-sharped iris, as Steven interrupts it when he questions how he can fuse with other Gems.
This is the first episode in which Garnet bubbles something, but does not eject it.
It is unknown if the Gems actually kept the Earth and Heaven Beetle.
Continuity
Cultural References
Opal's design is very similar to Nabooru of Legend of Zelda aspect: Ocarina of Time.
When Amethyst dances, one of her movements is very similar to a controversial style of dance often referred to as "twerking."
Errors
When Pearl and Amethyst were arguing, a shot of their legs appeared in which Pearl's leg color was tan instead of white.
When Pearl and Amethyst were playing checkers, Amethyst had 6 pieces, but when Pearl said she won, Amethyst only had 5, and when it shifted to both of them, there were 7.
In one scene, when the gems look at Steven, Amethyst's gem disappears.
The color and placement of the water balloons Steven is holding completely changes between shots.
Transcript
View the episode's transcript here.
Videos
Gallery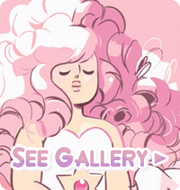 References
Community content is available under
CC-BY-SA
unless otherwise noted.