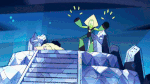 "You have to fix this!"
This article is about Connie's voice actress. You may be looking for Grace Kraft.
Grace Sakura Rolek is an American actress, voice actress, and singer. She is the voice actress for Connie Maheswaran in Steven Universe and Steven Universe Future. She also voices Cloud Connie in the episode "Open Book".
Trivia
Grace lurks on the fandom on Tumblr frequently.[citation needed]
She believes that Connie would definitely want to know more about the Kindergarten.[citation needed]
Grace has a pet bearded dragon named Montgomery.[1]
External Links
References
Community content is available under
CC-BY-SA
unless otherwise noted.