Doctor Strange in The Multiverse o Madness - The Loop
Play Sound
Greg Universe owns a large collection of old vinyl record albums, including a large amount of transcendental space rock music.
Albums in Collection
Orange Magic Orchestra - O.M.O.
The Philosophy Majors - Nietzche's Breakdown
Queen - News Of The World
A rare vintage vinyl record which includes Theme from An Endless Romance and RARELY, recorded by electric pianist Lint Roll and the world-famous The Lint Roll Ensemble.[1]
Estella - Shine
History
Greg plays the QUADRINOMETRY album. Garnet is annoyed by the sound and rolls out of the van so she doesn't have to hear it. The other Crystal Gems do not seem to very much enjoy the music either, excluding Rose Quartz, with Greg mentioning that the album was one of her favorites.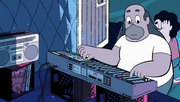 A box of records can be seen in the background inside Greg's Van. The cover of Queen's 1977 album News of the World is visible.
Greg, Steven and Connie are sorting out Greg's music collection. After Greg puts on The Philosophy Majors' Nietzsche's Breakdown, Steven and Connie start dancing and end up fusing into Stevonnie.
In the flashback, he puts on the Theme from An Endless Romance before dancing with Rose Quartz.
Garnet and Greg are seen going through the collection.
During the song "I Think I Need a Little (Change)", Greg is seen playing the Nietzche's Breakdown album while Rose dances to it.
Trivia
The Q U A D R I N O M E T R Y album was one of Rose Quartz's favorites.
The cover of the Orange Magic Orchestra (O.M.O.) album shown, as well as the name of the band, greatly resembles the Japanese electronic band Yellow Magic Orchestra's single "Kimi ni, mune Kyun" (from the album Naughty Boys).
The cover of The Philosophy Majors' album Nietzsche's Breakdown resembles greatly the cover of the album Tragic Kingdom by the American rock band No Doubt.
Queen's 1977 album News of the World is the only real-world album in the collection.
Gallery
Screenshots
Animations
Storyboards
Model Sheets
Backgrounds
References