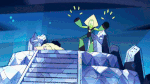 "You have to fix this!"
Season 1
"

It's okay, Steven. We'll figure out something else, something even better!

"
—"Laser Light Cannon"
"

Hey, Pearl, come to check out some buff studs?

"
—"Coach Steven"
"

As CEO, I officially ground this astronaut.

"
—"Space Race"
"

Yeah, he's just an amigo from way back when... He's dead to me.

"
—"Story for Steven"
"

I just showed the Gems that I ain't got the stuff.

"
—"The Message"
"

Yeah, but these other Gems aren't like your mother. They're not like Garnet, Amethyst, or Pearl—they're not gonna start caring about people now... They didn't the first time they—

"
—"The Return"
"

I mean— it was thousands of years ago! It's— it's not like I was there!

"
—"The Return"
"

No such thing as a good war, kiddo.

"
—"The Return"
Season 2
"

I don't understand anything anymore.

"
—"Reformed"
"

I can't believe I got that on video, what on Earth WAS that!?

"
—"We Need to Talk"
"

Son, there will come a time in your life when you'll learn to accept all pizza.

"
—"Keystone Motel"
"

I'm going to see a man about a tunnel brush... An internet man. If I'm not back in an hour, call the police.

"
—"Keystone Motel"
Community content is available under
CC-BY-SA
unless otherwise noted.