Greg and Rose's Pictures are two identical pictures portraying Greg Universe and Rose Quartz. One of them belongs to Greg; it makes its first appearance in "Laser Light Cannon". The other picture presumably belonged to Rose; it appeared in "Lion 3: Straight to Video".
Appearance
The pictures portray Greg, holding a hot dog in his mouth and looking at Rose, who has her eyes closed. Unusually, Greg's scalp is completely bald despite the fact that the picture was taken before Steven's birth, when he had more hair. In "Maximum Capacity", Amethyst replaced the broken frame of Greg's picture with a light blue one decorated with seashells. The new frame has a picture of a yellow starfish in the upper left corner and some more mollusks shells in the lower right corner. It also has a yellow tag bearing the word "sale" in all capital letters in the bottom right corner.
Episode appearances
Greg's copy
While looking for the laser light cannon in Greg's storage unit, Steven accidentally steps on the picture, only damaging its frame and glass.
Greg finds the picture in his storage unit while cleaning. Later in the episode, Amethyst replaces the picture's frame and glass and gives it back to Greg as an apology.
The picture can be seen on a shelf in Greg's Van.
Rose's copy
The picture is seen, along with other items belonging to Rose, in Lion's Dimension. It has the same frame that Greg's used previously.
It is seen on Steven's nightstand with a fixed frame.
Gallery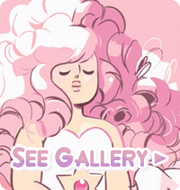 Community content is available under
CC-BY-SA
unless otherwise noted.