Jurassic World: Dominion Dominates Fandom Wikis - The Loop
Play Sound
"

Remember, we'll always be your family.

"
—Garnet
"Homeworld Bound" is the 17th episode of Steven Universe Future and part one of the four-part series finale.
Official Synopsis
Steven heads to the Diamonds for advice on how to control his new powers.
Plot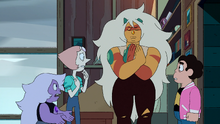 The episode continues directly after the events of "Fragments", with Garnet, Amethyst, and Pearl still waiting outside the bathroom door for Steven, worried that something may have happened. Jasper eventually emerges, and when asked where Steven is she moves to reveal him, responding with "Right here." as she performs the Diamond salute. Steven walks out of the bathroom with a traumatized look on his face. The Gems attempt to try and talk to him again, but Steven ignores them as he heads up to his observatory's Warp Pad. As they try to approach him, he glows pink and creates a barrier blocking the gems from reaching to him, and fails to reassure them by saying he loves them, but can't help him anymore. He also tells them not to follow, including Jasper, to which he coldly says "Go find something better to do in your life.", which surprisingly leaves her in a state of silent shock. Garnet reminds Steven "We'll always be your family.", just before the Warp Pad activates and Steven leaves his family.
Steven finds himself soon on Homeworld, now filled with natural life and aesthetically pleasing buildings. Heading inside the royal palace, he sees the throne room for the Diamonds, now filled with all sorts of Gems, but no Diamonds insight. As the crowd walks away, Spinel is shown from behind them. Once seeing Steven, she immediately goes to greet him out of joy, setting him off in his pink state from being startled. Once calming down and knowing how she's been, Steven asks her to take him to the Diamonds.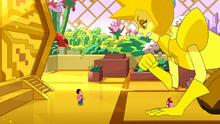 They first meet Yellow Diamond, who is attempting to repair her old Gem Experiments. After spending thousands of years destabilizing Gems, Yellow decided to use her powers to restabilize Gems, even if their gems are cracked or shattered, which even gives her the idea to restabilize the Gem Shards within the Cluster. Yellow and Steven converse, with Yellow attempting to change Steven's size (which is a procedure of her Gem Repairment). This sets him off a bit as well, considering this isn't helping what he wants. Yellow decides that maybe Steven's problem might not be physical but rather emotional, advising Steven to talk to Blue.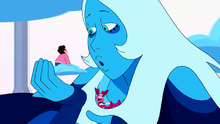 Steven and Spinel visit Blue Diamond, who explains that she vaporized her original tears of sorrow into clouds that causes one to feel joy and excitement when they touch said clouds. After Blue Diamond sings "My Little Reason Why", Steven indulges with these clouds, but his body glows pink again, in the response that this isn't what he needs either. He explains that he doesn't want to feel better, but he wants to be better. Blue explains that Steven's problem might not be emotional but rather something with his self-worth and that White Diamond would be able to assist him in this particular situation.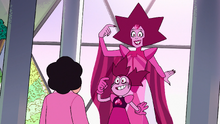 When visiting White Diamond, she tells him that instead of taking control of Gems and make them see things from her perspective, she is doing the opposite by letting Gems take control over her and seeing their point of view, to where Spinel clarifies that her powers "work in reverse". White demonstrates by letting Spinel take over her body, her color changing into Spinel's palette and copying her every move.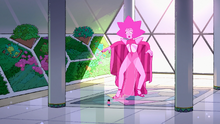 White excuses Spinel so she and Steven can talk alone. After Stevens explains his problems, she tells him that if he tried her way of understanding new points of view, she could help him. Steven accepts the offer and White allows him to take control over her body, turning it pink.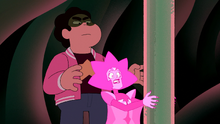 Steven is amused at first but realizes that he's seeing himself how he doesn't want to be seen: as a Diamond. He begins to lash out over his problems about being compared to a Diamond, as White makes the same movements he does, causing her to destroy part of her room, which scares Steven. As Steven questions why he's afraid, he remembers what happened in "Change Your Mind", when White ripped out his gemstone in an attempt to bring back Pink Diamond. With vengeance, Steven remembers that he is the one in control and that she should be afraid of him. The background turns dark with Steven being bigger than White. He then controls her in a way similar to a marionette, though both of them have the same voice. White becomes scared and confused, whereas Steven is cold and vengeful toward her, and he attempts to force her to bang herself on a pillar, presumably trying to shatter her, just before he hits his own head and loses control over her. White is confused and scared of this and she asks him what that was, to which Steven stammers that he doesn't know.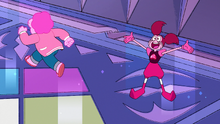 Steven shifts in and out of his pink state and begins to swell up uncontrollably while running away from White. Spinel chases him and asks where he is going. Steven remembers that Spinel once had vengeful thoughts, and asks for advice on how she got rid of hers. Nonchalantly at first, Spinel suddenly becomes excited and answers that she got rid of them when she met Steven and, in a singing voice, begins to recite lyrics from his own song "Change". This angers Steven, not wanting to hear the advice he gave her, and his face swells up again before the Diamonds appear. Concerned for Steven, the Diamonds asks him to let them help. He anxiously declines and runs away. Spinel runs after Steven while his appearance changes similarly to how he looked in "Fragments".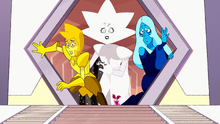 Steven leaves the palace, and Spinel and the Diamonds try once again to get him to accept their help. Steven, in anguish, asks them not to follow and the episode ends with him warping away from his family, who are trying to help him, once again, setting the stage for the next episode, "Everything's Fine ."
Features
Characters
Objects
Locations
Gem Homeworld

Unnamed Capital City

Diamond Palaces

Gift Shop (debut)
Yellow Diamond's Workshop (debut)
Blue Diamond's Joyful chamber (debut)
White Diamond's Meditation chamber (debut)

Universe (mentioned)
Music
Songs
Instrumentals
Trivia
This episode was planned to have an early-screening alongside the sing-along version of the movie through Fathom Events, but it was later canceled due to COVID-19. Due to this inconvenience, it was instead released through the CN app on the intended date of the event.
According to the Crewniverse, Chert and Flint were two characters who were supposed to be part of the Off Colors, who would have appeared in the episode of the same name.[2] They were initially scrapped from appearing in the episode, due to there being too many members of said team and the fact they did not fit in with the others (in terms of being ostracized not due to the way they are, but rather by what they believe).
Jasper performs the Diamond salute, which hasn't been done since Holly Blue Agate saluted Steven in "Rose Buds".
This episode marks the only time Blue Diamond sings a solo song.
Upon reuniting with Steven, Spinel's eyes have heart pupils, which could be a reference to her original, heart-shaped design.
This episode is the final time Steven's gem is seen glowing.
Various Gems appear again through cameos in this episode.

Lemon Jade appears waving in the distance near the steps of the Diamond Thrones, after being poofed in "Together Alone".
Ocean Jasper appears talking with a Turtleneck Jade.
Topaz reappears in this episode, partaking in Aubergine Pearl's tour of Homeworld. Also taking the tour are two of the Nephrites that reside in Little Homeworld and one of the Sapphires that attended the Era 3 Ball in "Together Alone".
Cherry Quartz and an Aquamarine appear in Blue Diamond's room.
Cultural References
Homeworld Bound is a play on words with the term "homeward bound".
Steven leaving one of his flip-flops behind while running out of the palace is a reference to Cinderella (as Cinderella leaves behind one of her glass slippers while walking out of the ball).

Additionally, references to Cinderella also exist in "Familiar", another episode featuring Steven on Homeworld with the Diamonds.

Spinel runs similarly to the video game character Sonic the Hedgehog as Steven is rushing out of the Palace towards the end of the episode.
When Steven stops controlling White Diamond, a sound effect can be heard that is the same sound as the one Enid from O.K. K.O.! Let's Be Heroes! makes when she teleports.
Continuity
Parts of "Change Your Mind" are shown after Steven asks himself why he's so afraid of White Diamond.
Spinel begins to sing the first verse of "Change" when Steven asked her how she stopped her negative thoughts.

Despite this being Steven's song and advice, he does not take it.
She tells Steven "That was embarrassing to try to kill you.", which happened in the movie.

Steven stating that he wants to be better rather than feel better parallels White Diamond's contemplating on how she believed she was supposed to "be better" in "Change Your Mind".
In Yellow Diamond's room, we see some of the plants from her Jungle Moon colony (first seen in the episode of the same name).
Errors
Transcript
View the episode's transcript here.
Gallery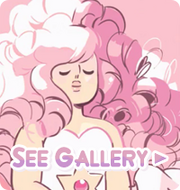 References