Homeworld Gems are Gems who are affiliated with the Gem Homeworld. They are led by the matriarchal body of The Great Diamond Authority, who are in absolute power of the existing Gem colonies.
Members
In "Hit the Diamond", Peridot reveals that Yellow Diamond is in complete control of Homeworld's military. All her subordinates (except her Pearl, Doc, and Navy) have a small Yellow Diamond on their chests in two symmetrically connecting diagonal black lines. She created the Cluster when Earth was deemed unfit for a colony, due to the Rebellion. She is the supervisor and superior of Jasper, and formerly Peridot.
Blue Diamond became the supervisor of the colonization of Earth, after Pink Diamond was shattered by Rose Quartz. Sapphire was a former member of her court during this time. Following Pink Diamond's shattering, Blue Diamond took over operations of her human zoo in an additional attempt to keep her memory alive. She is still grieving over her shattering, millennia later, as their relationship was described to have been "very close."
Not much is known about her, other than the fact that she was in charge of the Earth colony, and that her symbol is present on the majority of ancient Gem structures. At some point during her reign, she built a human zoo and stole humans from their families, as trophies of her conquests. Her symbol is absent on structures dating as early as the Pyramid Temple, as she was shattered by Rose Quartz, one of her former court members, at some point during the Rebellion. Jasper was originally assigned to her as well. She also has a mural in the moon base, along with all the other Diamonds. She is not present in the recent symbol for The Great Diamond Authority.
In the logo of The Great Diamond Authority, a white diamond can be seen as well as the mural depicting her. Not much is known about her or her status. She appears to have spiky hair and her gemstone is placed on her forehead. According to her mural, she had the most colonies when the Moon Base was built; however, it is unknown how many she has now.
A Pearl who serves Yellow Diamond. She is arrogant and somewhat sassy, though she is only fearful of her master Yellow Diamond.
A Pearl who serves Blue Diamond. This Pearl seems to very calm and somewhat apprehensive to her owner. Blue Diamond's Pearl also acts mostly indifferent to her surroundings. She is rather opposite of Yellow Pearl.
A Quartz soldier assigned to escort Peridot on her mission to Earth who participated in the first war for Earth. After attempting to build an army of Corrupted Gems to fight the Crystal Gems, she was defeated by Smoky Quartz, became corrupted, and was eventually poofed and bubbled.
An Agate who, alongside Blue Diamond, manages Pink Diamond's Zoo in her absence. She also commands the various Quartz gems employed there.
The "Ruby Squad"
A squadron of Ruby soldiers tasked with finding Jasper on Earth. While at the Barn, they are coerced into playing baseball against the Crystal Gems (posing as humans). After later searching for Jasper across the entire Solar System, the Rubies return to Earth and head to the Diamonds' Moon Base. While on the Moon, they are flung into space indefinitely, except Navy who is able to return to Earth, trick the Crystal Gems, and steal back the Roaming Eye.
An Aquamarine sent to Earth by the Diamonds in order to retrieve different "variations" of humans for Pink Diamond's Zoo.
A fusion of two Topazes sent to Earth by the Diamonds in order to retrieve different "variations" of humans for Pink Diamond's Zoo.
Two Zircon Gems were appointed as legal counsel in a trial held on Homeworld. Both served as either the prosecuting or defense attorneys during the course of the proceedings. Both are "poofed" by Yellow Diamond.
Others
Other Rubies:

During the beginnings of the Rebellion, three Rubies (including the current Crystal Gem) are tasked with guarding a Sapphire, only for two to be poofed.

Other Quartz:

Several Amethysts, supervised by Holly Blue Agate, are seen guarding doors and entering Pink Diamond's Zoo in "Gem Heist" and "The Zoo".
The Crystal Gems' Amethyst meets a large friendly group of Amethysts and Jaspers (referred to as "the Famethyst") in "That Will Be All."

Two defective Quartz are present: "Skinny," a tall and skinny Jasper, and Carnelian, shorter than most Quartz.
Three Amethysts are confirmed to be from the Prime Kindergarten, each named "Facet-5 Cut-8XG", "-8XJ," and "-8XL," respectively. Amethyst finds out she is "8XM."
Former Members
History
Over 5,750 years ago, the Homeworld Gems arrived on Earth using the Gem Colony Ships and soon after, they built the Warp Pads for faster and easier traveling. During the time they had on Earth, they planned to terraform and colonize the planet, creating the Kindergartens in order to produce more Gems at the cost of depleting the Earth of its resources which would inevitably cause great harm to the planet and its inhabitants. The colonization of the planet was under the control of Pink Diamond. It was on this planet that Pink Diamond created the 'Rose Quartz' cut of Gems. In the Prime Kindergarten, the first Kindergarten built on Earth, many Quartz Gems were created, mostly Amethysts and Jaspers.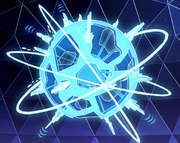 Feeling compassion and seeing the error in their ways, Rose Quartz rebelled and formed the Crystal Gems, a team of rebels who also wanted to protect the earth, and they started the war for Earth known as the Rebellion. One such Crystal Gem was Bismuth, who worked on Homeworld as a construction worker. Rose convinced Bismuth to build what she wanted and Bismuth became a blacksmith, constructing all Crystal Gem weapons, on the condition that they'd be used to destroy a Gem's physical form and not their Gemstone. Bismuth constructed the Breaking Point, a weapon that'd shatter a Gemstone upon contact to Rose, who refused. The pair fought and Rose poofed Bismuth and bubbled her in Lion's Mane.
During the early days of the conflict, Blue Diamond came to Earth with a group of Gem diplomats to investigate the situation, among them a Sapphire and her three Ruby bodyguards. Sapphire predicted a future in which Rose Quartz, and her partner Pearl would destroy the physical forms of seven Gems, including Sapphire and two of her Ruby bodyguards. Sure enough, Rose and Pearl attacked. Before Pearl attacked Sapphire, her Ruby shielded her and the pair formed Garnet, the first cross-Gem fusion. Due to Ruby's impulsive nature, Rose and Pearl escaped and Blue Diamond ordered Ruby to be shattered. Sapphire, sparing Ruby, took her to Earth and the pair grew close, forming a romantic relationship and Garnet once again. Garnet was eventually found by Rose and Pearl and became a Crystal Gems.
As the Rebellion became more and more of a problem for the Homeworld Gems, the Beta Kindergarten was created. However, unlike the Prime Kindergarten, which was planned, the Beta Kindergarten was a rush job and many Gems from the Kindergarten were defective in some form, such as an overcooked Carnelian who came out sideways, or a Skinny Jasper. One such Gem produced was Jasper, who was seen as the 'Perfect Quartz' by many and rose to become a fierce warrior.
At some point, a Lapis Lazuli was sent to the Earth to visit for a short time. She landed in the middle of the Rebellion and was poofed, her Gem picked up by a Homeworld soldier and locked in a Mirror, constantly interrogated and believed to be a Crystal Gem.
Some time in the Rebellion, Pink Diamond was shattered by Rose Quartz in her Palanquin in front of her entire entourage, including Eyeball. However, as theorized by Zircon in "The Trial", the culprit couldn't have been Rose Quartz, as Rose Quartz was a recognized threat for several hundred years and none were in her guard, thereby meaning Rose would have no opportunity to get close to her. Zircon further theorized that the most likeliest suspect would have to have been Pink Diamond would've trusted enough to stop her palanquin and let down her guard, probably even another Diamond, but Zircon was poofed by Yellow Diamond for her theory.
The Gems assigned to Pink Diamond were disturbuted amonst the courts of the other Diamonds. Grief stricken, Blue Diamond took custody of the Gems she made on Earth and employed them in Pink Diamond's Zoo as guards under the command of Holly Blue Agate, seeing the Zoo and the Earth as the last remnants of Pink Diamond's legacy that needed to be protected.
During the waning days of the Rebellion, the Homeworld Gems suddenly fled the Earth and escaped, told to run by their superiors, but many didn't know what they were running from. During this event, Lapis's mirror was dropped at the Galaxy Warp and she was stepped on, cracking her Gem. Several were left behind, including Centipeedle, as the Diamonds unleashed a final weapon, a Corrupting Light, to get rid of the Crystal Gems once and for all. All Gems exposed to this light were corrupted and turned into Gem Monsters. The only Gems to survive this were Rose, Pearl, and Garnet, who were protected via Rose's shield; Lapis, who was protected via the mirror; and Bismuth, who was bubbled.
At some point after the Rebellion, possibly as a direct result, Homeworld enters Era 2 and suffers a resource shortage. Gems are made without standard abilities, including shapeshifting. Peridots, in particular, are made short and lacking powers, being given Limb Enhancers to compensate. This, however, may or may not be entirely true, as in "Too Short to Ride" Peridot ends up unlocking her ferrokinesis ability after trying to save her tablet from falling in the water.
In, "Mirror Gem" Rose's son, Steven Universe, discovers Lapis's mirror and the pair bond. He rips Lapis's Gemstone out of her Mirror and releases her. With her cracked Gem inhibiting her hydrokinesis, Lapis steals Earth's ocean during the events of "Ocean Gem" order to return to Homeworld. Steven approaches her and heals her Gemstone, allowing Lapis to use her water wings to fly to Homeworld.
The second member of the Homeworld Gems to be seen was Peridot, who repaired the Homeworld warp at the Galaxy Warp during the events of "Warp Tour." She was to check on the current status of the Cluster, but left after finding a Crying Breakfast Friends! sticker, which made her think the site was compromised.
She returned in "Marble Madness", where she tried to check on the Kindergarten again before Steven distracted her. She asked about the current state of Earth, and seeming bored, she attempted to kill him. However, the remaining Crystal Gems intervened and destroyed the main power source of the Prime Kindergarten Control Room, which made Peridot tell them that she would report what had happened. Presumably, she alerted Yellow Diamond, as implied through their conversation during "Message Received."
Lapis was seen again in "The Message", this time using a Wailing Stone in Homeworld to send a message to Steven and the Crystal Gems of an approaching threat coming to Earth. The Gems took this to mean Peridot. Unbeknowest to them, Lapis was enroute too, being made to serve as an informant for Peridot against her will.
During the events of "The Return", Peridot brought with her two Homeworld Gems: her escort Jasper and Lapis Lazuli, traveling to Earth on the Gem Warship. Jasper helped Peridot defeat the Crystal Gems and take them back to the Homeworld. However, their plans were foiled when the Crystal Gems managed to fight back and defeat them, crashing their Warship in the process and stranding Peridot somewhere on Earth after she escaped on an escape pod. In one last ditch effort to defeat them, Jasper fused with Lapis to become Malachite, a monstrous fusion who sealed herself in the ocean by Lapis' will.
In "Keeping It Together" the Crystal Gems encounter Peridot at the Prime Kindergarten, where Garnet and Steven discover the Cluster Gems, the result of forcibly fused Gem Shards. While the Crystal Gems manage to poof and bubble most of the Cluster Gems, several manage to escape and by "Nightmare Hospital" several are found by humans. Peridot, however, manages to escape, her psyche slowly breaking, and still looking for ways off the planet.
"Cry For Help" features Peridot attempting to contact Yellow Diamond, to no avail. In "Friend Ship" Peridot attempts to repair the damaged Homeworld Warp, only to be stopped by the Crystal Gems. During a confrontation at the Gem Colony Ship, Peridot loses her Limb Enhancer foot, but still manages to escape. In "Catch and Release" Peridot kidnaps Steven, believing that his healing powers will manage to fix the Homeworld Warp, but due to the events of "House Guest" Steven is unable to do so. The Crystal Gems promptly arrive and bubble Peridot. Steven, out of curiosity, pops her bubble, and releases a now defenseless Peridot, lacking her Limb Enhancers. Peridot tells Steven that her mission on Earth was to check progress on the Cluster. She ends up locking herself in Steven's Bathroom, stubbornly refusing to negoiate with the Crystal Gems. In "When It Rains" Peridot and Steven bond over the rain and this convinces Peridot to share with Steven the truth about the Cluster; it is an artificial fusion of millions of Gem Shards, incubating in the Earth's core, which would destroy the Earth once it takes its physical form. The only way to survive would be to either evacuate the planet or shatter it before it takes its physical form.
In "Back to the Barn" to save her life, Peridot forms a partnership with the Crystal Gems to construct a drill to destroy the Cluster. However, while Peridot begins to bond with the Crystal Gems and like life on Earth, she still wants to be seen as useful to Yellow Diamond. In "It Could've Been Great" the group travels to the Moon to find coordinates on the Cluster's current location on the Moon Base. There, Peridot steals a Diamond Communciator, which in "Message Received" the Crystal Gems take to mean that she is going to contact Yellow Diamond for the purpose of destroying the Earth. In truth, Peridot attempts to reason with Yellow Diamond to terminate the Cluster and utilize the resources on Earth, but Yellow Diamond refuses, causing Peridot to talk back to her, call her a 'clod' and sever her connection with Homeworld, becoming a Crystal Gem.
In "Super Watermelon Island" the Cluster begins to take its physical form. The Crystal Gems however, believe it to be Malachite rising and Garnet, Amethyst, and Pearl go to investigate, forming Alexandrite as Malachite frees herself and Jasper manages to take control. The pair fight and with the aid of Steven and the Watermelon Stevens who have inhabited the island, Malachite is poofed. However, Jasper falls into a crevice resulting from an earthquake from the Cluster and an unconscious Lapis is taken into the custody of the Crystal Gems and brought back to the Barn.
In "Gem Drill" Steven and Peridot drill to the core of the Earth to locate the Cluster, which begins to take form. The drills have close to no effect on the giant Gemstone, and Peridot and Steven end up in a standstill. Steven ends up unlocking his empathetic powers and enters the mind of the Cluster, where he discovers it isn't truly dangerous, but merely millions of Gems attempting to find their missing Gem Shards. With Steven's aid, the Cluster bubbles itself, preventing the Earth from being destroyed.
In "Same Old World" Lapis formerly defects from Homeworld and refuses to be a Crystal Gem, instead accepting life at the Barn with Peridot in "Barn Mates."
Apparently, the day before "Barn Mates" Yellow Diamond sent out a squadron of Rubies, consisting of their leader, Doc; the fighting obsessed Army; the recently created Leggy; the war veteran Eyeball; and the fun loving Navy. The squad is entrusted with bringing Jasper back to Homeworld, but the Crystal Gems believe they are after Peridot due to her actions towards Yellow Diamond. To send them away, Steven lies and says that Jasper is on the planet Neptune and the Rubies leave for the time being.
On Earth, Jasper attempts to get her revenge on the Crystal Gems for their actions in "The Return" and "Jail Break" and Rose's supposed shattering of Pink Diamond. In "Alone At Sea" she attempts to rejoin with Lapis, who coldly rebuffs her. In "Gem Hunt" and "Crack the Whip" she begins to capture Corrupted Gems to use as part of an army to unleash on Beach City. In "Earthlings" Steven, Amethyst, and Peridot attempt to face her, but seeing as she is too powerful, Amethyst begins to give up. With encouragement from Steven, this causes the pair to form Smoky Quartz, who frees the Corrupted Gems. To defeat Smoky, Jasper fuses with the Snow Monster. This fails and Jasper becomes corrupted as a result, being bubbled and stored away in the Burning Room. The group return to the Barn to find the Ruby Squad.
In "Back to the Moon" the Ruby Squad reveal that they are aware they have been tricked by the Crystal Gems and demand Jasper. To distract them once again, Amethyst shapeshifts as Jasper, telling them Jasper has decided to stay on Earth to keep the Crystal Gems prisoner. The group head back to the Moon Base to contact Yellow Diamond, where Eyeball reveals that Pink Diamond was shattered by Rose Quartz. The Ruby Squad finds that there are no means to contact Yellow Diamond, but Amethyst convinces them to leave. They return, however, to offer her passage back to Earth, discovering the ruse and fusing into a Ruby Fusion. Pearl and Garnet form Alexandrite and unfuse them, but Eyeball grabs Steven as they exit the Moon Base, Steven forming a bubble to protect himself.
The Rubies end up stranded in space, Steven coming face to face with Eyeball. Steven manages to convince Eyeball that he is Rose Quartz after he heals her cracked Gemstone, but seeing the opportunity for fame and glory, desiring to go down in history and receive her own Pearl, Eyeball attempts to steal Steven's Gemstone, forcing him to eject her from his bubble and send her into space. The Crystal Gems take possession of the Ruby Squad's Roaming Eye and return to Earth.
The Homeworld Gems remain away from Earth for some time until the events of "Steven's Dream" where Steven sees Pink Diamond's Palanquin in his dream and goes with his father, Greg, to find out the truth. There, he finds Blue Diamond and her Pearl, as Blue has been secretly going to Pink Diamond's grave site to mourn over her. Blue Pearl finds them, Greg coming face to face with Blue Diamond. Greg is able to comfort her and the pair form a bond over their shared lost ones, although Blue remains oblivious that Greg's lost loved one is Rose Quartz. Still believing the Cluster is active, Blue takes pity on Greg and abducts him as one last piece of Pink Diamond's legacy, taking him to Pink Diamond's Zoo.
The Crystal Gems decide to rescue Greg using the Roaming Eye in "Adventures in Light Distortion" and in "Gem Heist" the group go to the Zoo, Garnet unfusing. The group give the false story that Sapphire is travelling with her Amethyst and Ruby guard, and Pearl servant to bring Steven as an offering to the Zoo. They encounter the matroness Holly Blue Agate who states that Blue Diamond just left, and they attempt to enter the Zoo and rescue Greg. With several Amethysts reporting Blue Diamond's return, Holly orders the pair to take Steven into the Zoo. In "The Zoo" Steven meets several Zoomen. After Greg makes them cry during the Choosening ceremony, the Amethyst attendants enter the Zoo to calm them down, Greg and Steven using this opportunity to escape, only to be picked up by an Amethyst Guard in "big trouble."
"That Will Be All" reveals that it was a prank on the part of Amethyst.
Trivia
Many fans have nicknamed the leader(s) the "Great Diamond Authority" based on Ronaldo's conspiracy theory created in "Keep Beach City Weird". Later, "It Could've Been Great" confirmed this theory.
Gems in alignment with Homeworld have diamond symbols on their outfits and weapons as opposed to the stars on the Crystal Gems' outfits and weapons.

This is confirmed in the Guide to The Crystal Gems.
The diamond symbols are colored off of whichever Diamond the Gem serves. For example, Eyeball, who serves under Yellow Diamond, wears a yellow Diamond, while Holly Blue Agate, who serves underneath Blue Diamond, wears a blue diamond.
There appear to be exceptions to this rule, as some Gems are known not to wear the Diamond symbol, such as the Zircons, or Blue and Yellow Pearl. In the former's cases, both wear diamond shaped ties, whereas the Pearls have diamond key-hole necklines.
In "Gem Heist" and "That Will Be All" the Crystal Gems were able to pass off as Homeworld Gems, despite only Amethyst's outfit containing a Diamond.

In the episode "Bismuth", Bismuth mentions a Gem known as "Nephrite" piloting a Homeworld ship.

Nephrite gemstones are smooth, green gemstones that are classified as jade.
v • e
Homeworld Gems