Jurassic World: Dominion Dominates Fandom Wikis - The Loop
Play Sound
"

You know, I deal with this kind of stuff on a regular basis, but, uh, you, uh, looked pretty cool back there.

"
—Ronaldo
"Horror Club" is the 41st episode of the first season in Steven Universe, and the 41st episode overall.
Official Synopsis
Steven goes to the lighthouse to watch scary movies with Ronaldo, Lars, and Sadie.[2]
Plot
The episode starts at night with Lars jokingly telling Sadie to hurry up or he'd lock the store with her in it. While waiting for Sadie to come out, Lars gets surprised by Steven's sudden appearance in front of him. Steven then tells Lars to not be too afraid and that he is going to a "spooky movie party". When Steven asks if Lars would like to join him, the mention of Ronaldo causes Lars to mean-spiritedly decline, deeming Ronaldo a "social napalm". As the two chat, Sadie exits the store and asks Steven if they should be going to Ronaldo's party. Steven zealously says yes, and the two make their way to the party. Upon seeing that Sadie was going, Lars then decides to tag along. Lars asks where the party is being held, to which Steven points towards the lighthouse.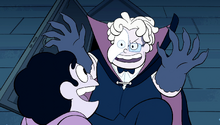 Outside the lighthouse, Steven knocks on the door, which Ronaldo opens. He greets Steven in a spooky manner wearing a costume, only to be ridiculed and mocked by Lars. This causes Ronaldo to lose his composure and accidentally break his mask. Ronaldo then sheepishly asks everyone to come in. Sadie greets Ronaldo warmly and enters the lighthouse, while Lars abruptly spooks Ronaldo and laughs at his reaction whilst entering. Ronaldo then questions Steven about him being friends with Lars, to which Steven replies, "Isn't everybody?"
Inside the lighthouse where everyone is already seated in front of the TV screen, Ronaldo introduces the film they're going to watch, called Evil Bear 2. Lars retorts that he had already seen the movie, calling it boring and commenting on the awful computer-generated graphics. Ronaldo then yells, "Blasphemer!" and rebuttals by saying that he saw the remake and not the original, after which Lars tells him to turn it down a notch. Sadie asks Ronaldo where he got a copy of the movie and if she could see the box. Sadie then questions whether Steven can handle the movie, and Steven confidently replies that he could. However, Steven watches the movie from behind the couch. Ronaldo asks him if he could see the movie from there, and the sound of the movie frightens Steven. The power then suddenly cuts off, much to the annoyance of everyone. Lars suggests it was just a blown-out fuse, but Ronaldo suggests it was a ghost. Sadie thinks the statement was a joke to lighten the mood, but Ronaldo tells her he was being serious.
Ronaldo opens one of his filing cabinets and takes out a pendulum in an attempt to communicate with the supposed entity. Ronaldo asks the "spirit" for a sign; the pendulum he is holding swings lightly and hurls itself towards Lars, hitting him in the face, after which Ronaldo asks for more signs. The filing cabinet then opens and the papers inside it burst out and encircle the group. Ronaldo then asks the entity to rein it in, but it ignores him, throwing various objects at them. It hurls a coffee mug at them that breaks upon impact, a barrel that Steven swiftly dodges, and another coffee mug that almost hits Lars but was saved by Sadie. Sadie then points towards the door and exclaims that they should all leave. As the group approaches the door, it suddenly slams shut and is unable to be opened. Left with no choice, the group charges at the door, causing it to splinter into pieces. As the group takes a breather, the door pieces reform back into a whole, and it closes again. Ronaldo apologizes on behalf of the ghost, but Lars is still unconvinced. Sadie then cuts between the two and suggests that they get out.
As everyone is going down the stairs, Ronaldo, impressed by Sadie's bravery, asks her to join him in going in again and investigating after everyone is safe. Lars noticeably becomes jealous and when Steven asks if something's wrong, he is muzzled by Lars' hand. Laughter is then heard. When Sadie asks what that was, Lars angrily takes the lead towards the door, exclaiming that they are just seeing, hearing, and feeling things that aren't there.
As Lars approaches the door, he is knocked back as it suddenly opens and reveals that the scarecrows outside have become animated, along with the fake bats. One of the scarecrows gets in and charges directly at Lars, chasing him with the bats. As the scarecrow corners Lars and grabs him, Steven throws it out before it can do anything more, forcing the bats out as well. Sadie and Ronaldo step in, closing the door. Ronaldo then explains the difference between a ghost and a poltergeist, and that the latter is attracted to the emotionally disturbed. He then accusingly points the flashlight towards Lars. An infuriated Lars starts a verbal sparring match with Ronaldo, but Steven tells Lars that he should not be ill-mannered towards Ronaldo. Still angry, Lars then goes to Sadie and asks her if she believes in ghosts. Sadie remains silent, then Lars tells her that it was a prank on Steven and Ronaldo's part, suggesting that they ditch them. Sadie, surprised at Lars' remark, backs away from him and tells him that she isn't ditching anyone. The floorboards suddenly open and causes Sadie to fall into a pit filled with a red light. Ronaldo then remarks that this is Lars' doing and that he is going to drag them down along with him. Suddenly, a covering on the floor opens, leading the three down to the lighthouse's basement.
In the basement, Steven tells the two that the spirit is close and is hurting. Hearing a sound, Ronaldo then points the flashlight towards a wall. The light reveals a red pulsing structure with what appears to be veins radiating from it and Lars' name emblazoned across it. Ronaldo then faces Lars and angrily exclaims that it should have been him and not Sadie. The beating structure then forms a mouth just below it. Ronaldo headlocks Lars and makes his way towards the mouth, lifting Lars up with the intent to sacrifice him in exchange for Sadie. Lars pleads to Ronaldo, saying that they used to be friends, but Ronaldo quickly remarks that he threw him and their friendship away as he throws Lars into the mouth.
Steven then runs after Lars, ignoring Ronaldo's statement about him not being worth it. Steven reaches for Lars inside and quickly forms a protective bubble over them after the steam pipe that was preventing the mouth from closing collapsed. Trapped in the mouth, Steven tries to strengthen and expand the bubble but the force caused by the expansion causes the mouth to burst. The two are thrown back, which pops the bubble and causes a hole in the wall where the mouth was. From the debris, Sadie emerges with a blue gem. As Steven picks up the gem, it suddenly flashes a bright light and begins to holographically relay a past memory.
The memory shows a young Lars and Ronaldo, nicknamed Ronnie, making a secret club and the lighthouse their base. To commemorate the occasion, Lars begins to carve his name onto the wall and jabs the screwdriver into the wooden wall. After a short tremor, a board then hits Lars and sends him flying. That moment was captured by Ronnie with his camera. Zealous that he captured a paranormal event, he shows it to Lars, who is still on the floor, and says that it will be in every station. Worried, Lars reminds him that their club was secret, but is ignored by Ronnie's enthusiasm. Lars gets up and begins to tear the photo into pieces, stammering that he was just removing himself from the picture, much to the dismay of Ronnie. The two begin to argue over it, and the situation escalates into a fight. Lars finally steps on Ronnie's foot and runs away, but just before he leaves, Ronnie asks Lars why he cares so much about the opinions of others. An incensed Lars retorts that Ronnie wouldn't have asked if he knew what other people think of him. The hologram then ends.
In the basement, Steven deduces the lighthouse served as the Gem's body and that the sensation of Lars carving his name into the wall made it feel as if it was under attack. He reassures the Gem and says that he understands how it had felt. Ronaldo then asks Steven to let him see it, but Steven replies that they should let it rest and proceeds to bubble it away. Sadie then understands that the actions of the Gem were due to it being hurt and trapped for so long. Lars says that he didn't mean to tear up the picture and they should stop talking about him when they weren't. Ronaldo asks Sadie if she was hurt, and Sadie replies that she is fine. Lars hastily adds that he was worried about her and that he arrived at the basement first, which makes Sadie smile. She asks that they all leave now and Steven suggests that they both go first as Lars and Ronaldo have things to clear up, to which Sadie agrees. Ronaldo then says that he wasn't trying to make Lars look bad, but Lars tries to avoid the conversation and hurriedly tries to catch up to the two.
Just before Lars goes up the stairs, Ronaldo tells him to take it down a notch, a callback to what Lars said to him earlier, which causes Lars to blush, and the iris closes in on him.
Features
Characters
Locations
Trivia
This episode, in Latin America and the Philippines, aired near Halloween of 2015.
This episode was originally going to be called "Beach City Horror Club", but six days before it aired, it was shortened to "Horror Club".
White Topaz was able to manipulate inanimate objects and bring them to life in a sense. Whether this is an ability special to her or an ability of Gems with no physical form, is up to debate.

Although in the episode "Rose's Room", Rose's voice was projected through a tiny pink whale, making it possible that Gems without a physical form can possess or project themselves onto inanimate objects.
It is also similar to the "Desert Glass" with its ability to manipulate sand in a variety of ways.
Cultural References
Continuity
A printout with a photo of Steven's cat fingers from Cat Fingers can be seen on one of the walls.
Sadie's scar from fighting the Invisible Gem Monster in "Island Adventure" can be seen in some scenes.
Lars' red jacket is worn by him again. Its first appearance was in "Lars and the Cool Kids", where Lars attempted to look cool while slinging it over his shoulder.
The fence that was put around the lighthouse from "An Indirect Kiss" is shown when they were walking to the lighthouse.
In the episode "Keep Beach City Weird", Ronaldo mentions using "psychic ghost powers." He was most likely referring to the lighthouse Gem that for many years, he thought was a ghost.
Errors
When Ronaldo welcomes Steven to the Beach City Horror Club, the eyehole in the mask doesn't have any glass over it. When he blinks, however, the eyeglass suddenly appears.
Transcript
View the episode's transcript here.
Gallery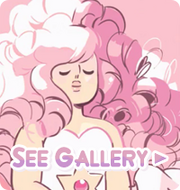 Videos
References