This article is about the Ice Monster. You may be looking for the Snow Monster.
The Ice Monster was a corrupted Gem that first appeared in "Monster Buddies". She was healed along with the other corrupted gems in "Change Your Mind".
Appearance
She possesses a bulky body that is colored varying icy shades of blue. The creature also possesses two, very large arms with four spiky fingers each and two short legs. Her head is carved into five sharp protrusions. She has two dark, hexagonal eyes and a gaping, dark mouth lined with sharp teeth. This monster is slightly taller than Garnet.
Despite this, however, when she is uncorrupted, she is quite small in size.
History
Thousands of Years Ago
The Ice Monster fought in the Rebellion on Earth and was unable to escape the Diamonds' Corrupting Light, mutating into a Corrupted Gem upon exposure to the light. In her corrupted state, she found refuge in an ice cavern.
The Crystal Gems are shown fighting the Ice Monster in the large cavern inside a snowy mountain. She's shown to be preventing them from acquiring a powerful, elemental artifact called the Shooting Star. After her arm falls off, Garnet deals the final blow on her, thus, defeating the monster. Pearl bubbles her gem and transports it back to the Burning Room. Her gem is seen again when Garnet bubbles Steven to the Burning Room and is later seen again when Steven bubbles the Centipeetle Mother's gemstone to the room along with the "Chaaaaps".
The Ice Monster, presumably uncorrupted during the events of "Change Your Mind", appears as a resident of Little Homeworld.
Episode Appearances
Trivia
The Ice Monster, as well as a stronger version of the Ice Monster, appear as antagonists in the flash game, "Sword Dancers".
In her corrupted form, she bears a resemblance to the Freezies from the Super Mario series, except she has arms and legs.
| | |
| --- | --- |
| Image | Description |
| | She has an elongated, hexagonal gemstone colored a bright blue which is embedded deep within her forehead. The gemstone is also damaged, with a part of it missing. Her gemstone glows brightly while in her body. When she was healed, the chip in her gem is repaired. |
Gallery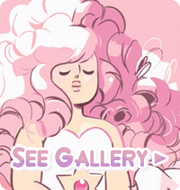 Community content is available under
CC-BY-SA
unless otherwise noted.