The
Invisible Gem Monster
is a former
corrupted Gem
that first appeared in "
Island Adventure
". She was later healed in "
Change Your Mind
".
History
The Crystal Gems search for the monster on Mask Island at the beginning of "Island Adventure". Later on, the monster attacks Lars, Sadie, and Steven, causing Steven to summon his bubble to protect them. Sadie subsequently defeats the monster by stabbing her through the torso with a spear and her gemstone is bubbled by Steven.
Her gem is seen in Rose's Fountain (along with the other corrupted gems), therefore she is currently uncorrupted.
Appearance
As her name suggests, the Invisible Gem Monster's body is invisible, except for her gemstone. Her features become visible when substances such as mud or water coat her exterior, revealing her to have a bulky body, strong build, two eyes, and a mouth. She doesn't appear to have a distinct head or neck. Located on her chest is a cone-shaped gemstone with a slightly elevated base. While the cone portion is a consistent dark blue, the base is separated by an elevation and contains differing shades of blue. The monster appears to prefer walking on all fours rather than upright.
Abilities
Invisibility: The Invisible Gem Monster's primary ability is, as the name suggests, invisibility.

Stealth: With her invisibility powers, the monster is skillful at stealth, as the Crystal Gems thought she escaped from Mask Island.

Enhanced Strength: She is incredibly strong, with enough power to push Steven's bubble, with Steven, Lars, and Sadie inside, over a cliff. She is also able to easily pick up and knock around Sadie during their scuffle.
Episode Appearances
Trivia
Invisible Gem Monster is the first Gem known to have been poofed by a human. Sadie was able to poof it with only a sharpened stick. This proves that early humans could have posed some trouble for the colonizing forces from Homeworld.
Invisible Gem Monster's gem is the first shown example of a gem having more surface area hidden inside the body than exposed outside. Due to the gem's rotation, it forms a spike pushing into the hard-light body.
| Image | Description |
| --- | --- |
| | The Invisible Gem Monster's gem location is on the middle of her chest. It appears to have rough, ridged facets. |
Gallery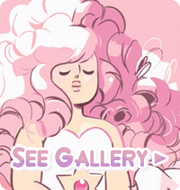 Community content is available under
CC-BY-SA
unless otherwise noted.