We're Getting Mutants in the MCU - The Loop
Play Sound
"

I'm the warp master!

"
—Steven
"Island Adventure" is the 30th episode of the first season of Steven Universe, and the 30th episode overall.
Official Synopsis
Steven takes Lars and Sadie on a vacation to a magical beach to mend their friendship.[3]
Plot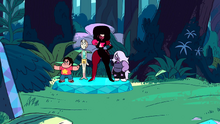 The episode begins with the Gems on Mask Island. Pearl and Garnet are on the island's beach and discuss a Gem Monster missing from the island. As Steven admires the ocean view, Amethyst tells Steven it's time to go. Before going, Steven asks if he could warp them home which Pearl jovially allows. Steven is then shown to be able to safely warp all of the Gems back to the house (calling himself the "Warp Master"). Amethyst pranks Steven by turning her head into a fly's head, making it seem that Steven's warp skills are what caused it. When Pearl mentions they have to warp out again, Steven asks if he can warp the team again, but Pearl tells him no, as they will be underwater and Steven needs air to breathe. To compensate for his lack of adventure, Steven goes and tells Lars and Sadie that he's the warp master.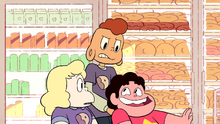 At the Big Donut, Steven bursts in and calls himself the warp master only to see Sadie and Lars are slouching at the counter with the latter asleep. As Sadie tries to get Steven a doughnut, she knocks over Lars and wakes him up, throwing the two into an intense argument. Watching them, Steven once again says he's the warp master and explains that he can warp the three of them to an island for vacation. While reluctant at first, Sadie says it could be worth a try, making Lars come along. Once there, it's revealed he had taken them to Mask Island. Confused and angry, Lars asks Steven why the Gems were there in the first place, and Steven explains that they were looking for a dangerous monster Gem. Bursting with anger, Lars stubbornly marches off to the Warp Pad, only to find it missing. Seeming to be stranded, the trio spends the night on the island.
The next day, Sadie tries to hunt for fish on the island while Lars tries to find a signal on his phone. Asking Lars to help (who refuses as he looks for a signal), Sadie gets frustrated with Lars and stabs the water with her hunting stick, and catches three fish. Angrily, Sadie tells Lars that while they're on the island, she'll hunt for fish, and Lars will cook it. Later that day, Lars cooks the hunted fish and is complimented by Sadie on his cooking skills. Cracking a joke about fire, Lars is able to get a laugh out of Sadie. Seeing progress in the friends' relationship, Steven sings the song, "Be Wherever You Are". As the song plays, a transition of several days and key events pass, such as Lars using his pant leg to wrap Sadie's bitten arm. As the three sleep, Lars and Sadie cuddle.
The next morning, Sadie wakes up alone and asks Steven where Lars had gone. Shrugging, Steven points outside to Lars panicking and still searching for a signal. As Sadie tries to calm him, Lars ends up throwing his phone into the ocean. Crying, Lars admits that he's very homesick. As Sadie reassures that she's there for him, she tries to fist bump him, only to see that he's stroking her hand. Sadie, as Lars asks her if she gets lonely, even when people are around, sadly watches him and nods. Lars then kisses Sadie on the lips. Sadie then reacts by kissing him back. Steven, who was secretly watching them from afar, suddenly starts singing the conclusion to the song.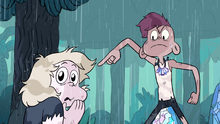 The two yell at Steven, as they were having a moment and Steven rudely interrupted them. Before scolding him further, the three are confronted by a floating gem and get knocked off the side of a hill. Steven then deduces that the gem is the monster they were looking for never really left, it was just invisible the entire time. As the three run away, Lars starts to sob and desperately exclaims that he wants to go home. Sadie, watching with a look of guilt, leads the three through the forest to a large lump covered in leaves. Uncovering it, it is revealed to be the Warp Pad, as Sadie had hidden it in a panic knowing that Lars needed the vacation. Blaming her for everything that happened, Lars starts to yell at Sadie, going as far as to say that she forced herself onto him. Shoving him in anger, Sadie accidentally pushes Lars off a cliff where the monster is hiding.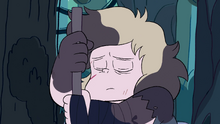 Terrified, Lars is thrown around by the beast until Sadie comes down and knocks the beast over. Fighting it, Sadie is able to tackle and aggressively shove the beast around, and eventually destroy it as Steven had thrown Sadie's hunting stick to her, telling her to use her "fish-murdering skills" to destroy the monster, which she does. Obviously hurt, Sadie gets up and uses the stick to walk to the Warp Pad. As Steven compliments Sadie's awesome fight, Lars awkwardly compliments her too, to which she replies that it's not an action to read into. Before they warp away, Steven tells them that they should do this again sometime.
Features
Characters
Locations
Objects
Music
Songs
Instrumental Songs
Trivia
Cultural References
Continuity
Errors
Transcript
View the episode's transcript here.
Gallery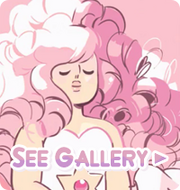 Video
References