The Sandman Will Keep You Awake - The Loop
Play Sound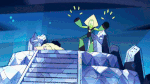 "You have to fix this!"
Level 2 Canon
This page contains content that is considered "level 2 canon" and may be contradicted by the TV series.
"Issue 18" is the 18th issue of the 2017 Steven Universe comic series published by KaBOOM! Studios and the 26th issue overall.
Synopsis
Amethyst is surprised and delighted when she is asked to help coach Connie and Steven in combat, but she struggles to find her own teaching style.[1]
Plot
Steven and Connie go to the Ancient Sky Arena for today's training with Pearl. Amethyst is invited to come along, as she is even asked to help Pearl to teach. They split up, with Pearl initially mentoring Connie while Amethyst goes with Steven. Amethyst is worried about disappointing Pearl, so she asks Steven about Pearl's teaching style and attempts to emulate it while they train. They then switch partners, and Amethyst feels that she has let Pearl down. Amethyst ends up helping Connie to study sword techniques from a book instead of physical training, and Pearl points out that the book is for a different type of sword than Rose's Sword.
Pearl asks Amethyst to come up with the final part of their training, and Amethyst admits that she feels unqualified for the job. Pearl apologizes for putting pressure on her and tells her that she just thought that it would be fun for them to combine their methods. Amethyst starts to feel better and suggests that they have a tag team match between the students and the teachers. They end up fusing during the battle, so it becomes Stevonnie versus Opal. Stevonnie ultimately manages to land a hit on Opal. Garnet arrives to cheer them on, and Pearl praises the influence that Amethyst had on the lesson. They decide to celebrate and partake in some Cookie Cats.
Features
Characters
Locations
Objects
Trivia
TBA
Cover Gallery
References