Wiki Targeted (Entertainment)
Play Sound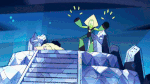 "You have to fix this!"
Level 2 Canon
This page contains content that is considered "level 2 canon" and may be contradicted by the TV series.
"Issue 20" is the 20th issue of the 2017 Steven Universe comic series published by KaBOOM! Studios and the 28th issue overall.
Synopsis
After a fight in the Strawberry Battlefield goes awry, the Gems get an important reminder on the value of teamwork.[1]
Plot
Steven, Connie and the Crystal Gems travel to the Strawberry Battlefield, where they battle a pair of bird-like corrupted gem monsters. Connie attempts to distract one of them during the battle, but she ends up endangering herself, and Sardonyx has to be formed in the process. One of the monsters is poofed, but the other manages to get away. Connie is upset by her performance and begins putting in extra training in an attempt to compensate. Steven is concerned that she might be overworking herself, so she goes to the Crystal Gems for help.
Garnet has an idea about how to help Connie. They take her back to the Strawberry Battlefield. But instead of seeking out the gem monster, they set up a picnic. Garnet reminds Connie that although the area used to be a battlefield, it is currently a field of strawberries and should be enjoyed in its current state. This helps Connie to relax. When the other gem monster returns, Connie feels refreshed and is able to poof it with just a little help from Steven. With that taken care of, they focus on finishing their picnic.
Features
Characters
Locations
Objects
Trivia
Cover Gallery
References