Wiki Targeted (Entertainment)
Play Sound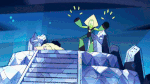 "You have to fix this!"
Level 2 Canon
This page contains content that is considered "level 2 canon" and may be contradicted by the TV series.
"Issue 21" is the 21st issue of the 2017 Steven Universe comic series published by KaBOOM! Studios and the 29th issue overall.
Synopsis
When Peridot wants to learn a song from Camp Pining Hearts , Steven asks Greg for help teaching Peridot![1]
Plot
Steven and Peridot watch some episodes of Camp Pining Hearts together. They reach an episode that Peridot now considers to be her favorite, because it contains a song by Percy that Peridot relates to. Peridot starts singing the song all the time, and Steven suggests learning to play it on an instrument as well. Steven listens to the song in an attempt to play along on his ukulele, until they reach a chord that he can't identify. They go to see Greg for help.
Greg is able to identify the chord and lets Peridot borrow a guitar to try playing the song. Peridot is initially fascinated by the instrument, and the Universes teach her how to play. But Peridot soon becomes frustrated with the amount of effort needed for each chord and storms away. She is upset at how easy it seems for Steven and Greg, but Steven goes to her and reassures her that it takes practice. He also convinces her to take a break for the time being. After some time has passed, Peridot listens to the song again and tells Steven that she is ready to continue her lessons. She manages to learn how to play the first few lines of the song, and the Universes congratulate her. Peridot is left determined to finish learning the rest of the song.
Features
Characters
Locations
Objects
Trivia
Continuity
Cover Gallery
References