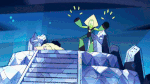 "You have to fix this!"
Level 2 Canon
This page contains content that is considered "level 2 canon" and may be contradicted by the TV series.
"Issue 20" is the 21th issue of the 2017 Steven Universe comic series published by KaBOOM! Studios and the 29th issue overall.
Synopsis
When Peridot wants to learn a song from Camp Pining Hearts , Steven asks Greg for help teaching Peridot![1]
Plot
TBA
Features
Characters
Steven Universe
Peridot
Greg Universe
Locations
Cover Gallery
References