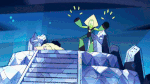 "You have to fix this!"
Level 2 Canon
This page contains content that is considered "level 2 canon" and may be contradicted by the TV series.
"Issue 22" is the 22th issue of the 2017 Steven Universe comic series published by KaBOOM! Studios and the 30th issue overall.
Synopsis
When Onion gets lost in the Temple, Steven chases off after him to make sure he doesn't get hurt.[1]
Plot
TBA
Features
Characters
Locations
Cover Gallery
References