The Sandman Will Keep You Awake - The Loop
Play Sound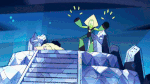 "You have to fix this!"
Level 2 Canon
This page contains content that is considered "level 2 canon" and may be contradicted by the TV series.
"Issue 22" is the 22nd issue of the 2017 Steven Universe comic series published by KaBOOM! Studios and the 30th issue overall.
Synopsis
When Onion gets lost in the Temple, Steven chases off after him to make sure he doesn't get hurt.[1]
Plot
Steven is initially seen being sad around the house, but he is interrupted by Amethyst, who reminds him that Vidalia and Onion are coming over for dinner. Vidalia comes bearing a new painting that she made of Amethyst, titled "Violet Victory", and Onion has his own strange work of art for Steven. They sit down to eat a dinner that Pearl helped Amethyst to create. After dinner, Amethyst and Vidalia go to Amethyst's room to find a place for the painting. Steven and Onion initially play video games together, but Onion slips away and enters Amethyst's room. Steven pursues Onion across several parts of the Temple and beckons him down from several dangerous scenarios.
In the Burning Room, Steven panics about being worried for Onion's safety. This causes Onion to hug Steven, and Steven realizes that Onion was doing all of this because he thought that it would cheer Steven up. The two end up going Rose's Room, where they play with the crowds. They then return to the house, in time for Onion to return home with Vidalia.
Features
Characters
Locations
Objects
Trivia
Continuity
Cover Gallery
References