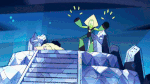 "You have to fix this!"
Level 2 Canon
This page contains content that is considered "level 2 canon" and may be contradicted by the TV series.
"Issue 23" is the 23th issue of the 2017 Steven Universe comic series published by KaBOOM! Studios and the 31th issue overall.
Synopsis
Steven asks Connie to join him in helping Garnet navigate cat ownership with her new kitten, Cat Steven .[1]
Plot
TBA
Features
Characters
Steven
Garnet
Connie Maheswaran
Cat Steven
Locations
Cover Gallery
References