The Sandman Will Keep You Awake - The Loop
Play Sound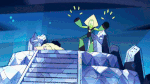 "You have to fix this!"
Level 2 Canon
This page contains content that is considered "level 2 canon" and may be contradicted by the TV series.
"Issue 26" is the 26th issue of the 2017 Steven Universe comic series published by KaBOOM! Studios and the 34th issue overall.
Synopsis
Things continue to go from bad to worse as Lars, the Off Colors, Steven and Connie must brave a turbulent nebula to escape Emerald's pursuit.[1]
Plot
The Off Colors crew has entered a nebula in an attempt to escape from Emerald. Fluorite feels responsible, because the nova thrusters she repaired were scanned by Emerald to find them. Lars attempts to assure her otherwise. He tells them that they need to find a fuel source and a way to mask their signature in order to escape from Emerald. Back at Beach City, Steven and Connie meet up the cool kids and retrieve an envelope containing a surprise for Lars, which is the last thing that they needed for his care package.

At the Sun Incinerator, Lars finds that everyone else has disappeared. As he investigates, he comes across Aquamarine and Topaz, who chase after him. Rhodonite and the Rutile Twins find themselves back on Homeworld, where the Rutile Twins are separated into individual bodies, and they are hunted by the Shattering Robonoids. As for Flourite, she suddenly finds herself on trial before Yellow and Blue Diamond, for the crime of being a fusion of multiple gems. They sentence her to be unfused, and for each gem to be imprisoned separately. Padparadscha is the only one of the gems to become aware that what they are experiencing is not real.

Steven and Connie arrive at the Sun Incinerator through Lars's hair, only to find that everyone has been put into a mysterious trance.
Features
Characters
Locations
Objects
Trivia
Continuity
Cover Gallery
References