The Sandman Will Keep You Awake - The Loop
Play Sound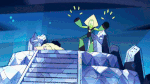 "You have to fix this!"
Level 2 Canon
This page contains content that is considered "level 2 canon" and may be contradicted by the TV series.
"Issue 27" is the 27th issue of the 2017 Steven Universe comic series published by KaBOOM! Studios and the 35th issue overall.
Synopsis
Steven and Connie finally get to Lars and the Off Colors, where they discover everyone is in a coma-like state. It's up to Steven and Connie to save them, but it may be worse than it appears! Lars and each Off Color are trapped in hallucinations that show them their greatest fears and each have to overcome them to get free.[1]
Plot
Steven and Connie have just arrived at the Sun Incinerator and found that the entire Off Colors crew has been knocked out. They realized that it must be some effect of the nebula, and they protect themselves within Steven's bubble while they try to think of a solution. In the meanwhile, the crew continues to experience their respective nightmare scenarios. In Flourite's dream, she rails against the Diamonds' attempt to condemn her. In Rhodonite and the Rutiles' dreams, the gems work together and manage to reunite the Rutile Twins, before noticing a path to the ship's control room.
As for Padparadscha, although she has realized that they are all experiencing dreams, her mind reminds separate from her body. In this form, she observes Steven and Connie as they figure out what to do. The two of them realize that they can resist the nebula's effects better by fusing, and so they become Stevonnie while Padparadscha's spirit watches with approval.
Within Lars's dream, he is hit by Aquamarine's wand and ends up at Sour Cream's house with his original appearance. He watches as the cool kids try out his ube and are disappointed by it, just as he feared. He then comes across Onion, who guides him across town to Sadie's house, where Sadie awaits him.
Features
Characters
Locations
Objects
Trivia
Continuity
Cover Gallery
References