Jurassic World: Dominion Dominates Fandom Wikis - The Loop
Play Sound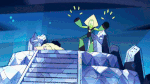 "You have to fix this!"
Level 2 Canon
This page contains content that is considered "level 2 canon" and may be contradicted by the TV series.
"Issue 29" is the 29th issue of the 2017 Steven Universe comic series published by KaBOOM! Studios and the 37th issue overall.
Synopsis
When Amethyst has a sad spell, Steven doesn't know how-or even if-he can help. But Steven is not going to let them stop him, he's going to cheer Amethyst up whether she likes it or not![1]
Plot
Steven and the Crystal Gems work together to defeat a gem monster, but it becomes evident that Amethyst is feeling unusually sad. Steven becomes intent on cheering her up and prepares a giant stack of waffles for her, only for her to dismiss them and claim that she's not hungry. She also says that there is no specific reason for her sadness. Steven goes to talk to Greg about it, and Greg attempts to tell him that sometimes people just need to be sad. But Steven does not process this advice, as he gets a new idea: to throw a concert on the beach for Amethyst. He asks Greg, Pearl, Garnet and Sadie's band to all perform at it.
During the concert, Steven invites her to play drums for Steven and the Crystal Gems, but she declines. The concert fails to cheer her up, but Greg assures Steven that it was otherwise a success. He then manages to explain to Steven how sometimes people need to be sad, and that they could not be forced to feel better. He recalls his own experiences, which enlightens Steven. Steven gets a new idea. At the Beach House, he puts together a "sad nest" for Amethyst to use to be alone while she goes through her sadness. The other Gems are away on a mission, and Steven plans to hang out with her dad in order to give her some alone time. But Amethyst appreciates the gesture and asks Steven to be sad with her. They spend the day in the sad nest, and Amethyst is left feeling better. She says that it helps when people do not make her feel like she is broken due to being sad.
Pearl and Garnet return home to find Amethyst in better spirits. Steven and Amethyst explain the concept of the sad nest to them, and they invite them to try it out sometime.
Features
Characters
Locations
Trivia
Continuity
Cover Gallery
References