We're Getting Mutants in the MCU - The Loop
Play Sound
"

We just wanted Steven to have some fun. I don't know what's going on with aliens trying to abduct him, and him being his own mom. But it sounds like he's got a lot on his mind.

"
—Sour Cream
"Joy Ride" is the 2nd episode in the second season of Steven Universe and the 54th episode overall.
Official Synopsis
The Cool Kids help Steven put some fun back in his life.[2]
Plot
Steven and the Crystal Gems are hard at work cleaning up the destroyed pieces of the Gem Warship. A shovel-wielding Steven digs at the sand and unearths a palm-sized fragment; he questions why it is necessary to find every last piece of the wreckage. Garnet states that having a wrecked Gem ship lying around is too dangerous, but does not elaborate further. Pearl also suggests starting a search for Peridot's escape pod as well. Steven heads off alone to dig up more ship fragments, and in moments becomes so invested in his work that he does not notice the Cool Kids (Jenny, Buck, and Sour Cream) calling for him. When they finally do get his attention, standing a few feet away, Jenny quips with "Welcome back to Earth," which Steven initially takes literally. The Cool Kids invite Steven to hang out with them; they appreciate how his positive nature offsets their cynical world view. However, Steven turns them down, saying he has too much work to do for the day.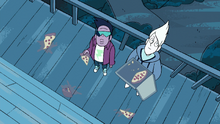 That night, as Steven lays in bed, sore from the day's work, Steven sees a slice of pizza hit his window, which he mistakes for "pizza rain" until he sees Buck and Sour Cream standing below, throwing slices of pizza to get his attention. When Steven comes outside to ask what they are doing, Buck says he "only wanted to see [Steven] laughing in the pizza rain"; Steven wonders if Buck is making some obscure reference. The Cool Kids invite him to hang out with them; Steven is bewildered by the concept of hanging out at night, but Buck argues that since he works all day, there is no better time to hang out than at night. Convinced, Steven decides to tag along.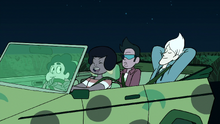 As Steven rides in the front seat of Jenny's Car, the Cool Kids bring up their family issues one by one. Sour Cream wants to be a DJ, but his stepfather does not approve, insisting he takes up the family business and be a fisherman. Buck's father, Mayor Dewey, is always telling him how to behave so he can protect his own public image. Jenny is annoyed by how her twin sister constantly gets on her case for her wild and reckless lifestyle, and pressures Jenny to be responsible like her. Steven tells the Cool Kids that a few weeks back, the Gems and his dad grounded him from TV (as of "Fusion Cuisine") as the Cool Kids become surprised. However, the Cool Kids all get some much-needed perspective when Steven talks about his family problems. He has recently learned that the Crystal Gems are exiles being hunted down by the Homeworld Gems for their perceived treachery, he is going through an identity crisis about whether he is really his own person or just a reincarnation of Rose Quartz, and he does not feel that he can talk to the Crystal Gems about his problems because he thinks they blame him for Rose's death. The Cool Kids are impressed that he can shoulder all of these problems and still maintain his upbeat attitude.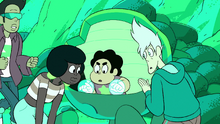 Just then, Sour Cream notices a strange green glow coming from a wheat field. The group investigates the glow to find Peridot's crashed escape pod. There, Steven tries in vain to get them to leave it alone. Jenny convinces Steven to take selfies with her and the others. After a few pictures, Jenny tells Steven to get inside the pod for a picture, which he does. Inside, the screen encases him within and gives him manual control. Steven tells the other kids that they need to return it to the Crystal Gems, but they convince him to stay inside and have fun with it. Steven uses the pod to give the kids rides on top, drag race, and do stunts. Before he tries to return it, Steven punches the ceiling which causes the pod to flood, shoot out a distress flare, and shoot lasers at random.
The Crystal Gems notice the flare and run to the field to stop what they believe is Peridot attacking the kids. Garnet orders the Gems to attack the pod with everything they have, almost killing Steven in the process. Just before Garnet can land the final blow on the pod, Jenny stops her and explains that Steven is inside. Garnet, upon closer look, sees Steven's silhouette and breaks the pod open. The Gems become worried and flustered over Steven and Garnet states that she is disappointed in him. The Cool Kids defend Steven by telling the Gems that he has been through a lot and needed a break. The Gems agree with them after realizing that they were too tough on Steven, especially since he saved them back in "Jail Break". Garnet un-grounds Steven from watching television as he hugs her, and the Gems and the kids take selfies together.
Features
Characters
Objects
Locations
Trivia
Sour Cream talks about his stepdad, who seems to be Yellowtail.

It was hinted by Rebecca Sugar before the episode that Sour Cream and Onion were somehow related. Sour Cream is later confirmed to be Onion's half-brother.
Peridot, Lapis, and Amethyst can be seen in the background for the promo art along with Steven and the Cool Kids.
The Cool Kids take a picture with the Crystal Gems and seem to resemble each other.

Buck resembles Garnet.
Sour Cream resembles Pearl.
Jenny resembles Amethyst.

Steven reveals that he has become uncomfortable talking about his mom with the Crystal Gems because he feels that they blame him for her not being around anymore due to her relinquishing her physical form to give birth to him.

This is likely due to the events of "Rose's Scabbard", during which Pearl lashes out at Steven amid the Crystal Gems' resurfaced tension and grief over Rose's absence.
Cultural References
Continuity
Steven is seen digging up the debris of the Gem Warship from the events of "The Return" and "Jail Break".

Garnet explains to Steven that having the wreckage of the warship lying around is too dangerous, not wanting any humans to hurt themselves while handling Gem technology. Unbeknownst to her, at the end of "Full Disclosure", Ronaldo was seen dragging away a piece of the warship.

Wreckage of the Gem Warship is seen in the title card, a pattern that started in "Full Disclosure".
Steven's black eye, caused by Jasper in "The Return" and first seen in "Jail Break", has fully healed.
It is confirmed that Peridot had made it to Earth. Although her precise current location is unknown, her escape pod is revealed to have landed near Beach City.[3]
Garnet un-grounds Steven from his punishment from "Fusion Cuisine". This is the second time she un-grounds Steven, the first time being in "Ocean Gem".
After being knocked about inside Peridot's escape pod, Steven accidentally knocks into a panel shaped like a yellow diamond, which sends up a diamond-shaped flare possibly signaling Peridot and Jasper's superior, Yellow Diamond, who was mentioned in "The Return".
Amethyst mentions Steven rescuing her and the other Gems and their subsequent escape from the Gem Warship during "Jail Break".
Errors
Note: Time is displayed in [mm:ss]; [00:00] refers to the point after the title card is displayed and before the episode's start.
Design
[09:40] After Garnet breaks open the escape pod, her lower right leg is discolored.
Animation
[03:57] At one point during the car ride scene, Buck's shirt can be seen through Steven's hair.
[09:41] After Garnet drops the broken escape pod, Amethyst's right eye becomes briefly discolored as she runs up beside Garnet.
Transcript
View the episode's transcript here.
Gallery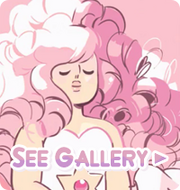 Video
References