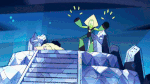 "You have to fix this!"
"Jungle Moon" is the 12th episode of the fifth season of Steven Universe and the 140th episode overall.[1]
Official Synopsis
Stevonnie finds themself alone on an adventure.[2]
Plot
Stevonnie is left stranded on the jungle moon after their ship crashes due to an explosion during a fight with Emerald in space. Stevonnie adapts to overcome their new strange environment. After discovering a Diamond Colony planning base, Stevonnie falls asleep in a hammock that they set up inside.
Stevonnie starts to dream, waking up inside of what appears to be Connie's house. Connie's mother, Dr. Maheswaran, is on the phone talking about an attack and colonization on the planet. Stevonnie quickly moves in to interact with her. Dr. Maheswaran turns to face Stevonnie, and her eyes are yellow with black diamonds as pupils. It's revealed that the dream is actually a past conversation between Yellow Diamond and Pink Diamond. Pink Diamond (represented by Stevonnie) is pestering Yellow, asking questions as to why can't she have an army or a fleet, and declares that she is just as important as Yellow, hence she is entitled to these things. Yellow, enraged by Pink's pestering, snaps at her to start acting like she's important. This ultimately makes Pink mad, storming away from Yellow's control desk. Pink Diamond stops to look at herself in the reflection of the glass, and enraged by her argument with Yellow Diamond, she smashes the glass in anger.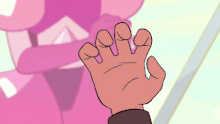 Stevonnie awakens, realizing that their dreams were an actual memory from the Diamonds, linked to the location they were in. Stevonnie heads up into the abandoned control room, realizing that the Diamonds' console could be a potential way to reach Lars. Stevonnie manages to get a signal out to Lars and he comes to rescue them.
Features
Characters
Object
Location
Music
Instrumental Song
Trivia
This is the first episode where Steven doesn't make an appearance.
This is the first episode to show Pink Diamond, not in a mural or silhouette form.
This is the only episode where a Gem is fused throughout the entire episode, besides Garnet, Rhodonite and Fluorite.
This is the first (and only) episode where Steven's voice actor, Zach Callison, is absent, making every voice actor or actress absent at one point in the series.
This is also the first episode where Stevonnie grows facial hair.
This is the first episode where aliens other than Gems appear.
This is also the first time Stevonnie stayed as a fusion for more than a day.
Continuity
The episode carries on exactly from the point where the last episode, "Lars of the Stars", left off.
Steven, through Stevonnie, mentions that he had dreams about the Diamonds again, the first time being in "Steven's Dream".
Connie's survival skills carry on from "Gem Hunt".

As well as some of the items used in that episode, such as the frog mug.

Yellow Diamond's mural in the Jungle Moon Base has the same look as the one in the Moon Base on Earth's moon.

This could mean this was Yellow Diamond's last colony before Pink Diamond colonized Earth.
Videos
Transcript
View the episode's transcript here.
Gallery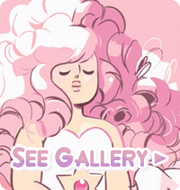 References