Doctor Strange in The Multiverse o Madness - The Loop
Play Sound
"

We've just been looking at the toppings of the problem. We've got to track this back to the sauce!

"
—Steven
"Kiki's Pizza Delivery Service" is the 13th episode of the third season of Steven Universe and the 91st episode overall.
Official Synopsis
When Steven accidentally projects himself into Kiki's dreams and saves her from a giant pizza monster, she asks him to help her out with what turns out to be a nightly stress dream. [2]
Plot
Steven prepares a fancy-looking table. Someone knocks on the door, and Steven is eager to answer it. On the other side awaits Kiki Pizza, delivering the pizza that Steven ordered. They both greet each other and begin to talk. Steven is surprised by the fact that Kiki is making the deliveries this time, instead of Jenny. Kiki reveals that Jenny blew the delivery car's tires by blasting one of Sour Cream's mixtapes and took the car to the repair shop, meaning Kiki has to do the deliveries on foot. Kiki leaves to make other deliveries, and then Steven prepares to eat. Hours later, the table is a mess, and Steven is seen sleeping on the couch while covered in sauce.
In his dream, Steven is flying around with rockets on his feet. He laughs and signs his initials in the sky using the stream from his rockets. He flies over a body of liquid cheese when a hand bursts out and grasps onto his arm. He flies up in surprise, pulling the hand with him, and learns that it belongs to Kiki. Kiki is then attacked by big cheesy hands, which Steven then destroys with rockets from his elbow joints. Kiki then thanks "Dream Steven" as Steven rockets away on Dogcopter.
The next day Steven walks over to Fish Stew Pizza to tell Kiki about the bizarre dream he had, only to see Jenny begging her to cover for her again so she can go to a metal show. Kiki agrees, Jenny leaves in the Pizza car and then Kiki talks with Steven. As Steven describes his dream, Kiki is shocked to find out she had the same dream as him, because Steven was actually in her dream. Steven initially apologizes, only to see Kiki delighted because he helped her have the first good night of sleep in weeks. Steven then agrees to help fight the cheese monsters in Kiki's dreams.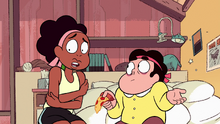 Days go by as Steven continues to fight in Kiki's dreams, all the while Kiki taking on more favors from Jenny. The more times Steven helps out, the more physically exhausted he clearly becomes. At one point, Steven became so exhausted that he sleeps in until 3:00 PM. On that day, Kiki delivers a pizza to his house and wakes him. Steven is surprised that she is giving him pizza for breakfast until Kiki informs him of the time. He then tells Kiki that she should quit her job because judging from her dreams, she has a problem with pizza. Kiki denies this and they decide to investigate in her dream tonight to find the source of the problem. Steven then tells her that after tonight, he will not be able to help her anymore. Kiki understands, knowing that she has been asking too much of Steven.
Inside the dream, they are once again attacked by pizza cheese which they initially defend against. Steven then realizes that they should go into the cheese. They fly into a cavern of cheese where anchovies and pepperaihnas attack them. At the end of the cavern, they see a pizza version of Jenny. She continues to ask Kiki for favors, to which Kiki says agrees to despite having a problem with them. Pizza Jenny holds onto Kiki's hand and cheese begins to spread over her body. Steven points out that Kiki is lying, telling her that her feelings matter which makes Kiki finally say "no" to Pizza Jenny which she accepts. Pizza Jenny withdraws and the landscape begins to change. Eventually, Steven and Kiki find themselves on a beach. They take in the view and note the bizarreness of dreams.
The next day, Steven goes to Fish Stew Pizza to check on Kiki, only to find Jenny sweeping up. She reveals that after a talk with her sister, Jenny graciously gave Kiki a day off for her to run as much as she wants without pressure. They look toward the beach and see Kiki running in the distance. Delighted that things went well, Steven falls asleep on the boardwalk.
Features
Characters
Objects
Locations
Trivia
Cultural References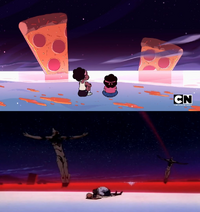 This episode has an overstock of references to anime.

The episode title is a reference to the Studio Ghibli film Kiki's Delivery Service.
After clearing Kiki's mind of the cheese, two pizza slices can be seen over the horizon as Kiki and Steven look out from the shore. This is a reference to the famous ending of the animated film, The End of Evangelion, mixed with a promotional shot from the same movie.
Steven's rocket shoes may be a reference to Astro Boy.
Steven's elbow rockets are similar to the joint rockets of Cyborg 004 from the Cyborg 009 series.
When Steven throws the giant pizza cutter, the way he raises his hands and throws it is very similar to the Spirit Bomb from the Manga/Anime series, Dragon Ball Z.

The concept of Steven going into Kiki's dreams to fight her nightmares and referring to himself as a "Dream Warrior" may be a reference to Wes Craven's A Nightmare on Elm Street 3: Dream Warriors.
Near Steven's bed, there is a game box with artwork similar to the GameCube video game Animal Crossing.
During this episode, Steven says "Pizza Time", which is a common catchphrase from Michelangelo in the original Teenage Mutant Ninja Turtles cartoon.
Steven wearing a bandana on his head could be a reference to the Rambo series.
Continuity
Steven interacts with another character through his dreams for the second time, the first being in "Chille Tid".

Also, like in "Chille Tid", Dogcopter meows instead of speaking.

Steven's line "Sorry for using the same pun twice" is a direct callback to "Steven's Lion", after Kiki used the pun with "lie" and "lion" for the second time after they leave the restaurant.
Errors
Note: Time is displayed in [mm:ss]; [00:00] refers to the point after the title card is displayed and before the episode's start.
Plot
[04:03] When Kiki is asking if Steven can go into her dreams again, she has her hands on both of his shoulders. When it cuts to Steven's answer, she only has a hand on his right shoulder. In the next cut, she has her hands on both of his shoulders again.
Design
[08:18] In the pizza cave, when pizza cheese Jenny is grabbing Kiki, the straps of her shirt disappear.
Transcript
View the episode's transcript here.
Gallery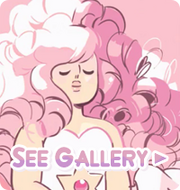 Videos
References