watch 01:20
The Loop (TV)
Kiki Pizza is a supporting character who made a cameo appearance in "Frybo" and made her official debut in "Steven's Lion". She works at her family's pizzeria, Fish Stew Pizza. She is the twin sister of Jenny Pizza and the daughter of Kofi.
Appearance
Kiki has dark eyes and curly, dark brown hair. While working at the restaurant, she wears a white apron, light cyan shirt, dark gray leggings with lighter gray rolled-up cuffs, and black shoes. She keeps her hair worn back in a beige scarf to protect it. In "Beach Party", she wears her hair up with a pink ribbon and a flowy, white and light green sundress.
Personality
Kiki is nice and comical with a sassy side. She likes to help her dad Kofi in the family business unlike her sister, Jenny. While playing volleyball in "Beach Party", she tries to stay clean. She appears to be more open to magic than her dad and sister. She also has a good work ethic as she works in the family business more than her twin sister. She also likes to spend her spare time running, as shown in "Kiki's Pizza Delivery Service", in which she spent her day off jogging on the beach.
Relationships
Family
Jenny is Kiki's twin sister. They seem to have a good relationship, with the two describing each other as their 'favorite twin'. Despite this, in "Kiki's Pizza Delivery Service" Jenny is somewhat manipulative, as she was shown to guilt Kiki into making her fill in for her job at Fish Stew Pizza. However, it was revealed later in the episode that Jenny had no idea her requests were taking a toll on her and gladly backed off because she loves her sister. Kiki can be seen as the "good daughter" whose upright work ethics clash with Jenny's more kickback "take-it-easy" attitude.
Kiki's dad seems to be less pushy towards her than Jenny, as she is more willing to work for their family business, whereas Jenny shirks.
Nanefua is Kiki's grandmother. Their relationship has not been shown in depth, though Nanefua is comfortable enough with Kiki to be a living ventriloquist dummy for her in Beach-a-Palooza.
Friends
She finds Steven to be a good kid and likes his friendly attitude. He is a popular customer at the pizzeria. Their friendship is more explored in "Kiki's Pizza Delivery Service" when Steven is willing to help Kiki find the source of all her recurring nightmares. The more times Steven helps out, the more physically exhausted he clearly becomes and the nightmares do not stop. Steven tells her that they shall go into her dreams one more time, but that he cannot help her anymore. Kiki understands and the last time they go, Steven notices her problem with saying no to her sister, pointing this out, telling her that her feelings matter. This helps Kiki finally say no to Jenny, and her nightmares finally stop.
While the two do not meet in the show, in Issue 2 (2017), Kiki meets Stevonnie for the first time and the two go shopping for Kiki's prom dress. Stevonnie ends up finding an outfit they like and agrees to go to the prom with Kiki. At the dance, it is revealed that Kiki has romantic feelings for Stevonnie. After Steven and Connie take time to think, Kiki agrees to remain as friends with Stevonnie.
Though not very knowledgeable at all about the Crystal Gems, her personality and Pearl's are very much alike as they are both tidy and ladylike, which is shown as they play volleyball in "Beach Party".
They seem to hang out together at the pizza shop. He tries to convince her to check out his blog. They are also seen dancing next to each other during the Beach-a-Palooza concert at the end of "Steven and the Stevens", but they do not interact with each other directly. In "Restaurant Wars", Kiki and Ronaldo pretend to fall in love in order for Fryman and Kofi to end the restaurant war due to love bringing the families together. This plan fails, however, when Ronaldo's girlfriend sees Kiki and Ronaldo together with flowers in their hands and Ronaldo explains that they were pretending to be in love, which Fryman and Kofi hear.
Episode Appearances
Trivia
Gallery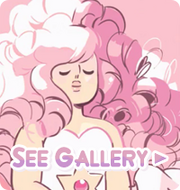 Community content is available under
CC-BY-SA
unless otherwise noted.