Doctor Strange in The Multiverse o Madness - The Loop
Play Sound
This article is about the formerly corrupted Gem. You may be looking for the members of the Famethyst or another Amethyst.
Lace Amethyst is a formerly-corrupted Gem. She (along with the other bubbled Gems) was uncorrupted by Steven and the Diamonds in "Change Your Mind". Now uncorrupted and free, she attends Little Homeschool, living at Little Homeworld with her fellow uncorrupted Gems.
Appearance
In her uncorrupted form, Lace Amethyst wears a black garment similar to a strapless one-piece bathing suit. Lace Amethyst also still has two small spikes on her forehead due to corruption, with very dark gray hair and boots.
Personality
Lace Amethyst is seen in the Steven Universe Future intro possessing a cell phone and socializing with humans, implying she has grown to understand human culture. In the series itself, she has been shown to be fun-loving and somewhat rowdy.
History
Lace Amethyst is one of the many corrupted Gems that are healed.
Lace Amethyst appears as a background character in Little Homeworld.
She is seen among Gems present during Cherry Quartz's tour of Little Homeschool with Steven.
In "Guidance", Lace Amethyst is seen staffing a counter at Funland as part of Amethyst's job program.
She and several other Quartzes crack their gemstones playing volleyball, and go to Steven, who heals them. They then go back to playing volleyball.
She is seen at Bluebird Azurite's welcoming party.
Lace Amethyst attends the Off Colors' graduation from Little Homeschool.
She watches in horror when she see Steven in his monstrous form.
Relationships
In the Steven Universe Future opening, she is seen socializing with Shep and Sadie in front of the Big Donut.
After being uncorrupted, she was greeted by Blue Lace Agate.
Lace Amethyst and Angel Aura Quartz are seen together after being uncorrupted. During the movie they're seen helping build Little Homeschool.
Episode Appearances
| Image | Description |
| --- | --- |
| | Lace Amethyst's gemstone is located on her chest. The Gemstone is round and unfaceted, and is also a purple and white layered pattern. It is a cabochon. |
Galleries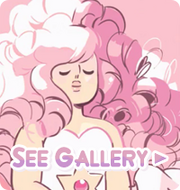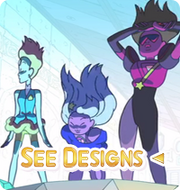 References