Click
here
to see more of Larimar's quotes.
Larimar, nicknamed "Little Larimar" was the Ice Monster when she was a corrupted Gem. She is a member of the Crystal Gems that first appeared in "Monster Buddies". She was healed with the other corrupted gems in "Change Your Mind". Larimar is the best uncorrupted gem in the eyes of many due to her love for human screams and laughter in her speaking debut, "Guidance".
Appearance
Corrupted
In her corrupted form, she possessed a bulky body that was colored varying icy shades of blue. Larimar also possessed two, very large arms with four spiky fingers each and two short legs. Her head was carved into five sharp protrusions. She had two dark, hexagonal eyes and a gaping, dark mouth lined with sharp teeth. She was slightly taller than Garnet.
Uncorrupted
In her normal, uncorrupted state, she has a sky blue complexion, as well as a prism shaped head with three spikes on top. Her eyes always appear to be closed, giving her a permanently cheerful expression. She also has claws, instead of normal fingers (possibly corruption scars). She wears a blue shirt with elbow-length sleeves as well as puffy dark blue shorts and a pair of blue knee length boots with dark blue spots on them. She also wears a light blue scarf. She is also very small in size (hence her name "Little" Larimar).
Personality
Larimar is a kind-hearted Gem, who wishes to make others happy. Her misunderstandings of how Earth society functions lead her to get confused over simple things, such as screams being sounds of joy. She also mentioned to Steven that screams are her favorite sound on Earth, which worried him. Despite this, it is shown that Larimar very much enjoys seeing children laugh, and wishes to make it her purpose on Earth to help them do so by giving out prizes at Beach City Funland.
History
Thousands of Years Ago
On Homeworld, Larimar constructed ice sculptures and statues for the Diamonds. Eventually, Larimar defected from Homeworld, which made her become a member of the Crystal Gems. Later on, she fought in the Rebellion on Earth until its very end, but was unable to escape the Diamonds' Corrupting Light, mutating into a Corrupted Gem upon exposure to the light. In her corrupted state, she found refuge in an ice cavern.
The Crystal Gems are shown fighting Larimar in the large cavern inside a snowy mountain. She's shown to be preventing them from acquiring a powerful, elemental artifact called the Shooting Star. After her arm falls off, Garnet deals the final blow on her, thus, defeating Larimar. Pearl bubbles her gem and transports it back to the Burning Room. Her gem is seen again when Garnet bubbles Steven to the Burning Room and is later seen again when Steven bubbles Nephrite's gemstone to the room along with the "Chaaaaps".
"Change Your Mind"
She appears talking to Snowflake Obsidian at Rose's Fountain.
Larimar, uncorrupted during the events of "Change Your Mind", appears as a resident of Little Homeworld.
"Guidance"
She appears in "Guidance" where she and Snowflake Obsidian both have jobs as snowcone saleswomen. During the episode, she exclaims how she loves the excited screams of people, and Steven tasks her with running the roller coaster due to this interest, which quickly goes awry. In the final moments of the episode, she is shown to have taken a liking to giving stuffed toys to children, as their laughter gives her as much joy as people's screams.
Larimar briefly stars in Steven's advertisement for Little Homeschool. When Steven thanks her, she says she is an actor.
Episode Appearances
Trivia
A corrupted version of Larimar, as well as a stronger version of her, appear as antagonists in the flash game, "Sword Dancers".
In her corrupted form, she bears a resemblance to the Freezies from the Super Mario series, except she has arms and legs.
Larimar was the fifth corrupted gem to have her gem type confirmed outside of the series. The previous ones were Watermelon Tourmaline, followed by Orange Spodumene, Blue Lace Agate, and Lace Amethyst.
In "Change Your Mind", a stout blue Gem appears talking to Snowflake Obsidian. It was stated by Rebecca Sugar in the DVD documentary for Steven Universe: The Movie that this Gem was originally going to be Larimar's uncorrupted form, but was replaced in favor of the current one. It is unlikely that this blue Gem will ever reappear as a result.
Her boots resemble a real larimar gemstone.
Larimar is the second Gem shown to have a non-native English accent, with the Swedish voice actress Michelle Maryk.

The first and only other Gem shown to have a non-native English accent is Topaz, with the Mexican voice actress Martha Higareda.

Larimar is the second Gem to have four fingers, the first being Orange Spodumene.
| Image | Description |
| --- | --- |
| | She has an elongated, hexagonal gemstone colored a bright blue which is located on her forehead. While she was corrupted, her gemstone was inside her head and was chipped on the 6th facet. |
Galleries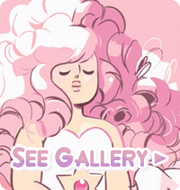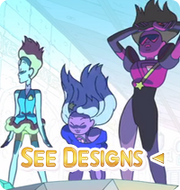 j