"Wanted" One Hour Special Event Promo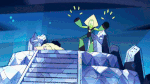 "You have to fix this!"
"

You brought me back to life! Just let me be someone who deserves it.

"
—Lars Barriga
"Lars' Head" is the 4th episode of the fifth season of Steven Universe and the 132nd episode overall.
Synopsis
Steven's tears accidentally bring Lars back to life, but with unintentional side effects.
Plot
After Steven's attempt to bring back Lars, in the previous episode, Lars questions what happened. Steven hugs him and explains how he accidentally brought Lars back to life, unknowing of how he did it and states that he should have asked. Lars is confused, especially regarding his "change in hue". Steven asks numerous questions of how he feels, since he really doesn't know, Lars finally answers that he feels really freaked out, as much as Steven.
Then the other gems Rhodonite, Fluorite, The Rutile Twins, and the Padparadscha Sapphire realize there are more shattering Robonoids from the previous episode. Fluorite then has the idea to block the entrance to prevent detection, by using a large stone. Steven realizes that if he's still around, the shattering Robonoids will still be after them. He thinks they should find a new hiding spot, but Rhodonite points out they'll be exposed, and Fluorite knows if they stay where they are, they will still be caught.
Lars questions if he is a zombie, since he died before Steven healed him, but Steven points out that his heart is still functioning, making a point about how zombies cannot talk nor do they have heartbeats. While Steven finds it to be beating slower than a human heart should, he is at least glad that Lars is not a zombie. Steven notices Lars' hair is also pink. but when he touches it, his hair glows much like Lion's mane. Lars is shocked when he notices it, but when he touches it, nothing happens. Lars requests for Steven to repeat what he did, and Steven touches it, his hair glowing once again. Steven tells Lars that he has an idea but he refuses to do it because he thinks that Lars doesn't want him getting inside his head. Lars thought that Steven will possess him again (much like in The New Lars when Steven and Lars switch bodies) but Steven denies it. Lars then allows Steven to proceed. Steven then enters Lars' head in a way similar to how he enters Lion's Mane.
While inside, Steven notices a tree, noticing it was just likes Lion's Dimension. He then looks around and notices another tree further away. Steven walks to it, thinking the tree looks familiar. Then, when finally close to it he notices Rose's Flag, T-Shirt, and everything on the tree. Then he realizes he is in Lion's Dimension and he's in Lion's Mane. Testing this theory, Steven ducks out of the dimension and exits via Lion's Mane. Steven is happy to be home and after snacking, packs some consumables for Lars whilst wishing he could alert the others that he is safe. Lion then approaches him and Steven longingly wishes he could talk to Lion and have his questions answered upon realizing that Lion died a long time ago and was magically resurrected. Steven then re-enters Lion's Mane and rushes back to Homeworld.
Meanwhile, Lars is adjusting to his new form and his questionable status as living when Steven emerges. Lars questions what is inside of his head as Steven explains his discovery that Lars' head leads back to Earth. He explains how Lion's Dimension works, confusing everyone.
Steven then offers Lars food, but he declines, Steven that as he possesses the same ability as Lion, he now needs to eat "Magical Lizards", but Lars doesn't approve. Rhodonite questions the juice box unaware of what purpose it serves, Steven explains to to her what humans drink on Earth. This confuses the Off Colors since they believed that the earth was decimated from the attack of the Diamonds. Steven explained to them that there was an attack, but Gems still live on Earth, and how it's full of life, using the food with him as an example. Rhodonite asks why Gems still live there with Steven telling her Earth is a place where everyone can live freely and be themselves.
The others love the idea of living there and wish to go via Lars. However, Lars notices a flaw in their plan and asks what he is supposed to do once everyone else leaves. Steven then attempts to pull Lars into his own head, but fails. Steven tries to come up with a new idea, but Lars then tells the others to leave him and go to Earth, telling them how beautiful it is and expressing sadness and regret as he took his life on Earth for granted.
But all almost except Rhodonite, refuse to leave without Lars, so they decided to find an alternative route to Earth. Lars then makes a point of how Steven is in the most danger and urges him to go back to Earth as it won't be safe for him to be around. Steven refuses but Lars doesn't want to argue, since Steven helped him so much, viewing this as his redemption for all the times he was rude to Steven. After a meaningful embrace, using Lars, Steven goes back to Earth.
Shortly after returning, Greg, Connie, Pearl, Amethyst and Garnet then warp back to the Beach House with Pearl stressing out after their plan to go to Homeworld failed when they cannot activate the unknown Gem drop ship, initially failing to realize Steven is there. Upon seeing him, all of the group members rush to hug him, thus ending the episode and the Wanted special.
Features
Characters
Objects
Locations
Music
Songs
Instrumental Songs
Trivia
The episode intro background resembles White Diamond's mural.
The episode confirms that the pocket dimension can now be accessed through Lars.
Cultural References
Continuity
This episode takes place after "Off Colors".
A reference is made to "The New Lars" when Lars is worried Steven is going to try and "possess (him) again".
Errors
The circular gem on Fluorite's forehead has a circular facet in this episode despite having a triangular facet in the previous episode.
Transcript
View the episode's transcript here.
Gallery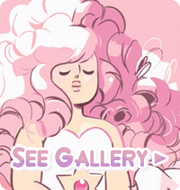 References
Community content is available under
CC-BY-SA
unless otherwise noted.