"

But nooooo, instead, we drove to loud music, chased a mysterious woman into the night and broke the law. Ugh, I've lost my edge.

"
—Pearl
"Last One Out of Beach City" is the 6th episode of the fourth season of Steven Universe and the 109th episode overall.
Synopsis
Steven, Pearl and Amethyst attend a rock show.[2]
Plot
The episode begins in the Temple with Steven and Pearl working on a puzzle, while Amethyst, who is also in the room, is shape-shifted into a ball and bouncing herself excitedly. When Pearl questions her behavior Amethyst reveals her anticipation for a rock concert that she will be attending with Greg. 
Greg comes through the door and tells Amethyst that he won't be able to go with her due to a previous request from Barb to play cards with her and Vidalia. Pearl tells Amethyst if she wouldn't mind hanging out with her and Steven, implying that she and Steven would like to go with her. 
In the next scene, Pearl, Amethyst, and Steven stop by the Big Donut to pick up some snacks. Pearl is now wearing blue jeans and an unbuttoned black jacket in her attempt to look cool for Steven and Amethyst. A pink haired girl resembling Rose walks into the Big Dount and immediately catches Pearl's eye. Steven and Amethyst urge Pearl to speak to her. Pearl approaches her, but accidentally fumbles and knocks over a stack of cups before she could say anything. The mystery girl leaves the Big Donut.
Later, Steven, Amethyst and Pearl are in the Greg's Dondai Supremo, on their way to the concert, with Pearl driving. Eventually, the pink haired girl pulls up beside them on a motorcycle. Following Amethyst's advice, Pearl gives the girl a look. The girl smiles back at her, causing Pearl to blush. The girl then drives through a yellow traffic light, while Pearl gets stuck at the red light. After a moment, however, Pearl drives through the red light after the girl. This causes a police car to begin chasing them. Pearl, not being a citizen of Earth, doesn't have a license, and so, she tries to escape the police. After a chase, Pearl pulls the car off to the side of the road, hiding it behind a billboard. The police car passes by, unable to find them. Pearl attempts to start up the car afterwards, only to find out that it's out of gas.
Pearl, upon getting out of the car with Steven and Amethyst, gets upset, saying that she wanted to seem hardcore and impressive to the two of them by going to the concert, drinking juice, and wearing pants. But instead all she did, she says, was listen to loud rock music, escape the police, and chase a mysterious stranger into the night. Amethyst and Steven reassure her that they already think she's hardcore, and that they had a lot of fun with her.
The three hear music, and upon following it to its source, find themselves at the concert they had meant to go to. They spot the pink haired girl there as well. Pearl decides to go talk to the girl. Amethyst begins to worry about her, afraid that Pearl will be rejected. But Pearl's conversation with her goes well, despite being a bit awkward. Afterwards, Pearl is confused, saying that the girl walked off after giving her a code on a piece of paper. Steven and Amethyst are quick to realize that the girl gave Pearl her phone number, and congratulate Pearl.
Features
Characters
Objects
Locations
Music
Songs
Instrumental Songs
Trivia
This episode's name was first revealed in the episode listing on the Cartoon Network website.[3]
The Gems are revealed to lack any sort of citizenship on Earth.
Mystery Girl bears intentional resemblance to Rose Quartz.

Steven points out that the resemblance is blatantly obvious to him and Amethyst as well.

This episode makes various references to crime, law enforcement and alcoholism.
It is implied that Amethyst uses the term "bad ass" before being interrputed.
American rock musician Mike Krol makes a cameo appearance in this episode. 
This episode ended by displaying characters as the tropes they played in the episode and is the first episode to end in this fashion. It is also the first episode to not use an original soundtrack sounds for the credits.
Deedee Magno-Hall, the voice actress for Pearl, was worried about her children seeing Pearl running the red light in the episode.[4]
Pearl's cool clothes resemble Lauren Zuke's Bad Pearl drawing.
Mystery Girl's phone number includes 301, the area code for the western portion of Maryland.
Cultural References
The title is a reference to Less Than Jake's 1998 song "Last One Out of Liberty City". [5]
Amethyst mentions "the pit", possibly referring to a "mosh pit," an area of a concert where people mosh dance, a dance characterised by the aggressive slamming into of each participant, commonly associated with hardcore punk music. This is solidified when Amethyst tells Pearl there will be people pushing each other.
The face logo on the back of Pearl's jacket could be a reference to the logo of the rock band Nirvana.
The Strawberry Sugar Shock Shutdown energy drink has a similar logo to Monster Energy.
The Mystery Girl's motorbike resembles a late-1974 Suzuki TS250, however lacking the trademark Suzuki TS Series grille on both sides. 
The police mobile used to chase Greg's Dondai resembles a 1987 Mitsubishi Galant Sigma.
Amethyst compares Pearl's poetic use of words in her conversation with the Mystery Girl to the works of famous English playwright William Shakespeare.
The Mystery Girl's phone number has an exchange (middle portion) of 555. Numbers of the form 555-01XX are reserved for fictional use to prevent prank calls.
The Mystery Girl's bike helmet has a sticker resembling that of the band The Aquabats.
Continuity
Errors
During the Police chase, Pearl's reflection from the rear-view mirror doesn't move.
Transcript
View the episode's transcript here.
Gallery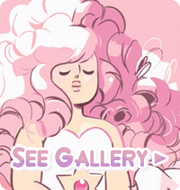 Videos
References