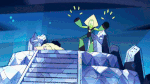 "You have to fix this!"
"Last One Out of Beach City" is the 6th episode of the fourth season of Steven Universe and the 109th episode overall.
Synopsis
Steven, Pearl and Amethyst attend a rock show.[1]
Plot
The episode begins in the Temple with Steven and Pearl working on a puzzle, while Amethsyt, who is also in the room is shapeshifted into a ball and boucing herself excitedly. When Pearl questions her behavior Amethyst reveals her anticipation for a rock concert that she will be attending with Greg. 
...
Greg comes through the door and tells Amethyst that he won't be able to go with her due to a previous request from Barbara to play card with her and Vidalia. Pearl tells Amethyst if she wouldn't mind hanging out with her and Steven, implying that she and Steven would like to go with her. 
...
In the next scene, Pearl, Amethyst, and Steven stop by the Big Dount to pick up some snacks. During which, we see that Pearl is now weaing blue jeans and an unbuttoned black jacket in her attempt to look cool for Steven and Amethyst. A pink haired girl resembling Rose walks into the Big Dount and immediately catches Pearl's eye.
Features
Characters
Objects
Locations
Music
Songs
"Like a Star"
"Fifteen Minutes"
Instrumental Songs
Trivia
This episode's name was first revealed in the episode listing on the Cartoon Network website[2]
The Gems are revealed to lack any sort of citizenship on Earth.
When Pearl saw the Mystery Girl, she reminded her of Rose Quartz, because of her pink hair.
This episode marks the first time a real life celebrity was portrayed in Steven Universe, doing exactly what makes them famous. 
The episode ends without an iris close, and the end credits play "Fifteen Minutes".
Cultural References
The title could be a reference to Less Than Jake's 1998 song "Last One Out of Liberty City"
Continuity
Steven mentions that Pearl's reckless driving had made him the most scared since she "almost let him die", referencing to "Rose's Scabbard" and "Space Race".
Ocean Town's entrance signpost said "Ocean Town: No Longer on Fire". This is a reference to the city's uprising mentioned by Mayor Dewey on "Political Power".
Pearl is seen driving a car again.
Pearl mentions she has been a criminal for 6000 years, referencing The Rebellion.
Transcript
View the episode's transcript here.
Gallery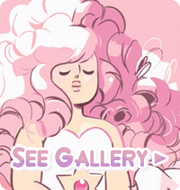 Videos
References
Community content is available under
CC-BY-SA
unless otherwise noted.