Doctor Strange in The Multiverse o Madness - The Loop
Play Sound
"

When we show up in this ship, it will be irrefutable that the last six-thousand years are now the biggest galactic embarrassment that's ever happened — and we're the ones to blame.

"
—Yellow Diamond
"Legs From Here to Homeworld" is the 25th episode of the fifth season of Steven Universe, the 153rd episode overall, and the first episode of Diamond Days.
Official Synopsis
Steven travels to visit family.[2]
Plot
The episode starts where "Reunited" left off. Blue Diamond is overjoyed that Pink Diamond is alive after all and cuddles Steven, but Yellow Diamond complains why Pink let them think that she was shattered, the strange disguise, doing a voice and not telling them about it back at the trial. Steven explains to her that his mother Pink kept it a secret from everyone then Pearl clears her throat, reminding him in which he meant almost everyone. Yellow is confused over the concept of a "mom" and asked what he's talking about. Steven talks to himself that they don't know what a mom is, and explains to them that Pink created her new form of Rose Quartz after faking her shattering and that he is an entirely new life created by Rose giving up her physical form, and while he has her gemstone and some of her powers, he doesn't have Pink's or Rose Quartz's memories. Yellow remarks that his memories might "be in there somewhere", but he said he goes by "Steven". Blue is surprised at the fact that he and the other Crystal Gems weren't obliterated by the Diamonds' final attack. Steven explains to them that the Gems affected by the attack weren't exactly obliterated but corrupted.
The Gems then warp to Centipeetle's dropship, as Steven proceeds to show the corrupted Centipeetle to the Diamonds. Steven begs the Diamonds to fix her, though they are reluctant, as they have never seen a corrupted Gem before and are unsure where to even begin. Yellow eventually agrees to try, though she makes no promises for success. Yellow uses her power to reform her to her original shape, but her mind remains corrupted. Blue uses her power to revert Centipeetle's mind and voice to a coherent state, though she is stuck in a continuous loop of reliving the moments just before she was corrupted. Steven uses his healing spit to calm her down, allowing her to regain her senses for the first time since her corruption.
Centipeetle, now fully healed, introduces herself as Nephrite Facet-413 Cabochon-12, and apologizes for not "heeding my Hessonite's orders", but she is relieved that the Diamonds are on Earth, believing that they must have defeated Rose Quartz. Yellow and Blue Diamond let go of her out of shame and Nephrite immediately reverts to her corrupted state.
Frustrated, Yellow gripes to Steven about how many "perfectly adequate Gems [he had them] ruin." Steven is unfazed and demands that they try to heal her again as they clearly have the power to do so. However, Yellow states that it won't work with just the three of them and that they need White Diamond in order for the cure to be permanent. Pearl and Blue Diamond express their doubt about White Diamond's assistance to Steven, adding that White has not left Homeworld in eons. At Steven's insistence, they travel to Rose's Landfill to find Pink Diamond's Ship in order to travel to Homeworld. Upon recovering the ship, the group returns to the beach to prepare for the journey. Connie tells her parents that this is going to be a diplomatic mission, and Pearl tells them that she'll be with Connie the whole time and know the planet. Priyanka Maheswaran agrees, and Connie hugs them. All the while, Amethyst is excited that she's going to Homeworld for the first time. Steven hugs his father and Lion.
The Crystal Gems (aside from Bismuth, who elects to stay behind at Beach City to watch over the gems of the poofed Lapis Lazuli and Peridot) along with the Diamonds, board the ship and leave the Earth. During their flight and in hyperspace to Homeworld, Connie and Amethyst slept since they left Earth, and both Diamonds express concern overseeing White and fear her rage, as the revelation that Rose was Pink Diamond means that the events of the last six thousand years have been the "biggest galactic embarrassment". Yellow matter-of-factly advises Steven to let her do the talking if he doesn't want to be in a bubble for the next few millennia when they arrive, as the chances of Steven being listened to are slim.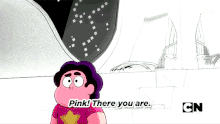 Upon arrival, when Connie and Amethyst wake up, they along with Steven saw the ring-planet of Homeworld for the first time. After the ship landed, Yellow told the Crystal Gems to wait so she and Blue will return for them once White's temper has cooled which might take a while. Then the group is surprised that they heard a cheer, come out of the ship and saw a crowd of Homeworld Gems who have gathered in front of the landing dock, in a formation resembling the original four-Diamond symbol, to celebrate Pink Diamond's return. Steven is momentarily reassured, as he believes the assembled Gems are on his side and thinks "Maybe things won't be so bad.", the crowd stopped cheering when White Diamond's Pearl suddenly appears before them. White's Pearl informs the group that White Diamond wishes to see "Pink Diamond" but when Yellow and Blue prepare to follow, White's Pearl clarifies that only Pink Diamond's (Steven's) presence is needed.
White Pearl then transports Steven directly to White Diamond's ship. White Diamond welcomes Steven―as "Pink" and "Starlight"―home, speaking condescendingly and not listening to anything he says. She then immediately transports him to a pink room full of bubbles overlooking the city, presumably Pink Diamond's old palace. Steven looks across the plaza at White Diamond's ship.
Features
Characters
Objects
Locations
Music
Instrumental Songs
Trivia
As of this episode, all four Diamonds and their Pearls have officially debuted.
This is Amethyst and Connie's first visit to Homeworld.
This is Steven's second visit to Homeworld since his first time in Wanted before he found the truth.
Before Steven helps Yellow and Blue Diamond heal Nephrite temporarily, Nephrite repeats "No, please, no! No! No! We're all gonna be-". This is most likely what she said immediately before being corrupted.
This is the final episode to use the Crystal Temple hand title card.
Cultural References
White Pearl's hairstyle is similar to the Star Wars character Princess Leia.
Nephrite's Facet number is 413, the main arc number of the webcomic Homestuck. One of the episode storyboard artists, Danny Cragg, is a close friend of Homestuck author, Andrew Hussie, and is part of the staff producing the spin-off game Hiveswap.
The White Diamond design refers to the New York Statue of Liberty by the shape of its hair and shoes.
Continuity
The title card has pieces of Yellow and Blue Diamond's ships scattered across the beach.
This episode begins shortly where "Reunited" left off.
The Gem Homeworld makes another appearance since its debut in "The Trial".

Yellow Diamond mentions the eponymous trial when demanding answers from Steven.

Steven mentions the events of "Monster Reunion".
Centipeetle is confirmed to be a Nephrite, a type of Gem mentioned to be pilots in "Bismuth" and "Jungle Moon".

In addition to Gems' distinguishing serial numbers including "Facet" and "Cut", this episode confirms the additional use of "Cabochon" in place of "Cut" in serial numbers like Nephrite's. A cabochon is a gem that has been polished into a rounded shape e.g. Nephrite, Lapis Lazuli, and Aquamarine.

Nephrite's commander is confirmed to be Hessonite, the main antagonist of the game Save the Light.
Rose's Landfill from "Lion 4: Alternate Ending" makes an appearance again.
At the start of the episode, Garnet attempts to stop Blue Diamond from holding Steven, calling her a "shatterer". Blue Diamond had previously threatened to shatter Ruby in "The Answer" after witnessing Garnet form for the first time.
Errors
Throughout the episode, Blue Diamond's sleeves turn into fingerless gloves on multiple occasions, both with and without exposed thumbs.
Yellow Diamond uses her left arm to control her ship instead of her right. The ship is modeled like a right arm.

It is unclear whether or not this is an error since the exact handling of the ships can only be presumed. It could be possible for Yellow Diamond to be able to activate her ship with either arm and only requiring her right arm for take-off and exact movements.

Steven looks amazed that Nephrite is talking before she talks.
In one shot inside the ship, when the Gems arrive on Homeworld, the panel Pearl manages is absent, and the closed-caption says beeping is missing and another two says "Whirring" instead of "Whirring, Beeping".
When Nephrite identifies herself to Blue and Yellow Diamond, the closed-caption says "Cavachon" instead of "Cabochon".
During some scenes in Pink Diamond's ship, Connie and Amethyst switch places.
As pink bubble opens, Blue and Yellow Diamond along with Garnet and Amethyst inside, and Pearl Steven and Connie are outside of the bubble.
When White Pearl puts herself and Steven in a bubble, the Crystal Gems, Blue and Yellow Diamond disappear.

Although this might not be an error due to different camera angles.

When the Crystal Gems run to the edge of the landing pad, Yellow and Blue Diamond disappear.

Again, this might not be an error due to the different camera angles.

The second time Steven is interrupted by White Diamond, his standing position has changed. However, as the meeting ends, he is seen back in his original position, despite not walking or moving.
The credits of the episode have multiple errors and irregularities:
At the beginning of the episode, the Beach House was still partially destroyed, but when Pink Diamond's ship takes off, it is shown intact. This is assumed to be an error rather than the result of the house being rebuilt off-screen, as Bismuth is seen fixing the house in "Escapism", and Steven Universe: The Movie shows that the house was rebuilt bigger.
Transcript
View the episode's transcript here.
Gallery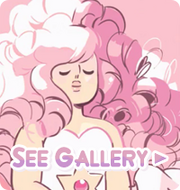 References